Bridge closure will disrupt firefighter mutual aid and raises capacity concerns
Many are concerned that Thetford only has 3 or 4 volunteer firefighters.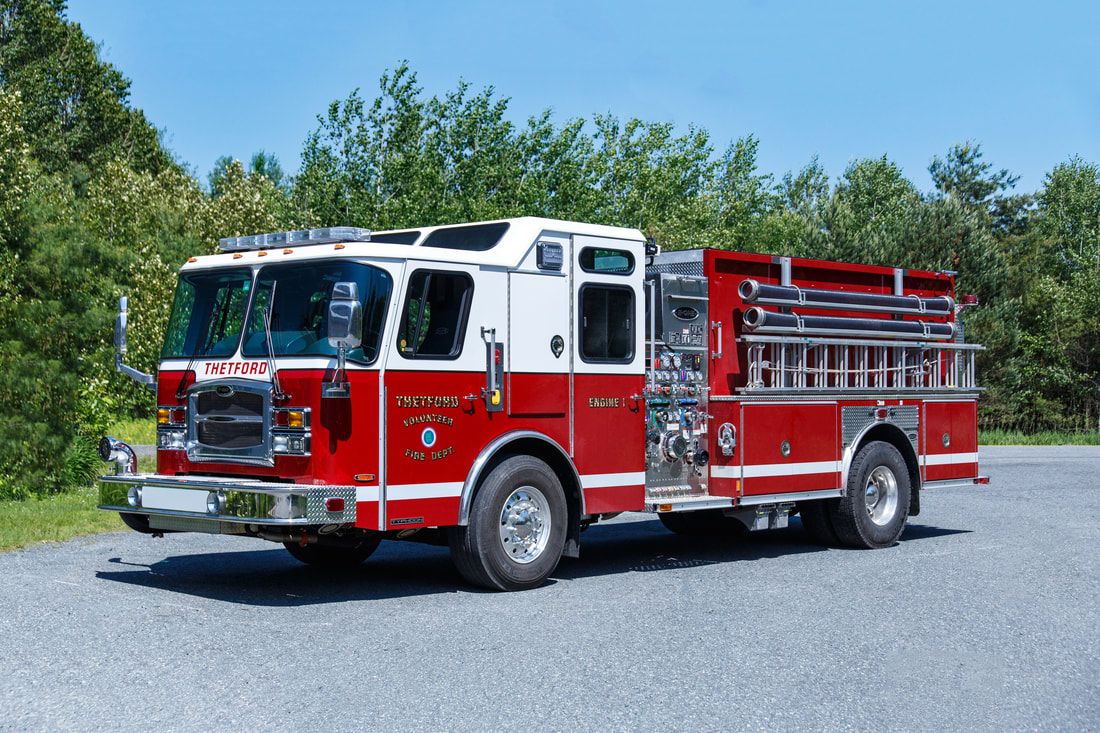 Municipalities in our region help each other. They share police, fire, EMS, and even public works resources in times of need in an arrangement known as mutual aid. There are times when small towns would be in big trouble without their mutual aid agreements with neighboring communities. It's not uncommon to see multiple fire departments respond to an incident, such as the ten departments from both Vermont and New Hampshire that responded to a structure fire on Cream Street during dry spring conditions in 2021.
There has been talk for a few years about the decrepit condition of the Lyme-East Thetford bridge, and it recently came to a head because the NH Department of Transportation proposes to close the bridge for 18 months for restoration work. This long-term closure threatens to have a negative impact on mutual aid, especially between the communities of Thetford and Lyme. When Thetford Fire Chief Chad Whitcomb was asked if he could estimate how often the two town's emergency services help each other and what impact the bridge closure might have for the Thetford Volunteer Fire Department (TVFD) he responded, "The bridge closure is something we have known about for over a year and have been working on with our mutual aid partners."
The Lyme and West Fairlee Fire Chiefs were more forthcoming with information. "I would estimate in the time I have been involved with Lyme Fire that we respond via mutual aid to Thetford a couple of times a month on average," said Lyme Fire Chief Aaron Rich. "Some months have 5 responses, other times we go 4 months without requests for mutual aid."
West Fairlee may respond to calls in Thetford two to six times a year according to West Fairlee Fire Chief Cory Austin. However, there may be a pause in this source of mutual aid. The state plans to close Route 113 between Thetford and West Fairlee in the spring to change a box culvert on the West Fairlee-Thetford line. "We will have to put in place using mutual aid for the closure," Chief Austin wrote.
Even before the bridge closure issue came to a head, speculation among Thetford residents about the Fire Department surfaced periodically through avenues like the Thetford Listserv. Planning Commission member Liz Ryan Cole posted in February of this year that she had heard at a recent Planning Commission meeting that Thetford had only four volunteer firefighters — "down from something like 22 only a few years ago."
In April, another post detailed the "talk from concerned people that live here and in surrounding towns … that all or most of our volunteers are quitting, getting or have gotten done ... I'm wondering if it's true that we only have 3-4 fire fighters left."
TVFD responded publicly, "We always welcome our community reaching out to our leadership and Board of Trustees with questions … Currently our roster has 15 members on the department in both Fire and EMS roles." In a recent email, Chief Whitcomb reiterated, "Currently, there are 15 members on our roster for 2022." He shared a table showing 14 members in 2021 and 16 members in 2022. In response to a question about historical roster sizes, he added, "We are not able to provide specific roster data for the years prior due to limitations in our electronic tracking system." A request for the names of volunteers on the roster was not answered.
TVFD is a private organization overseen by a Board of Trustees, but the names of the trustees are not provided on the TVFD website, and a request for the current list of TVFD trustees was not answered. However, it is known that Police Chief Michael Scruggs is president of the Board of Trustrees, Chief Whitcomb is a trustee, and his wife and Assistant Chief, Mariah Whitcomb, is Vice President of the Board of Trustees. President Scruggs referred all questions about TVFD to Chief Whitcomb and did not give any indication of current roster size.
Meanwhile, a resident who suffered a recent stove fire commented that Lyme and Hanover arrived on scene before Thetford, and there were only two Thetford volunteers when they did arrive. Another resident claimed that it may have taken Thetford 25 minutes to respond to an accident this week in Post Mills once the call went out, a notion that was disputed by the TVFD, who pointed out a date error in the resident's comment. As another example, one resident recently observed that during a structure fire in Post Mills, the fire truck housed in the Post Mills fire station didn't move during the entire incident. And so, concerns have percolated about whether there are enough volunteers to "man three trucks, water lines, pumpers, etc." for a house fire, or "drive, run the jaws of life, and tend traffic" in a highway accident.
Seeking more insight, Sidenote spoke with numerous former TVFD volunteers. They shared the concern that the current roster size is closer to two or three. How did it become so small? Former volunteers said they were dismissed from the department for not meeting participation requirements.

One former longtime volunteer came forward with a letter detailing their dismissal from TVFD in 2017. They said they were among eight who were dismissed at the time. The assertion was that to remain on the roster, volunteers were expected to participate in 95% of calls and 98% of trainings and work details. If true, that's a substantially higher standard than required of full-time career firefighters in the larger towns and cities in our region (100% of calls when they're on duty, but they're not always on duty).
Information from TVFD's website suggests an annual commitment of roughly 920 hours per year, or almost 18 hours per week. Those hours exclude time required for certification as firefighters and Emergency Medical Technicians (EMTs) and include acquiring skills like wilderness rescue, emergency casualty care, pediatric education, hazardous materials operations, vehicle extrication, rope rescue, and more.
According to West Fairlee Fire Chief Cory Austin, their department has a 100% volunteer roster of 18, and requires a minimum participation of six meetings and six trainings per year. The Lyme Fire Department has a volunteer roster of just over 30 according to Lyme Fire Chief Aaron Rich.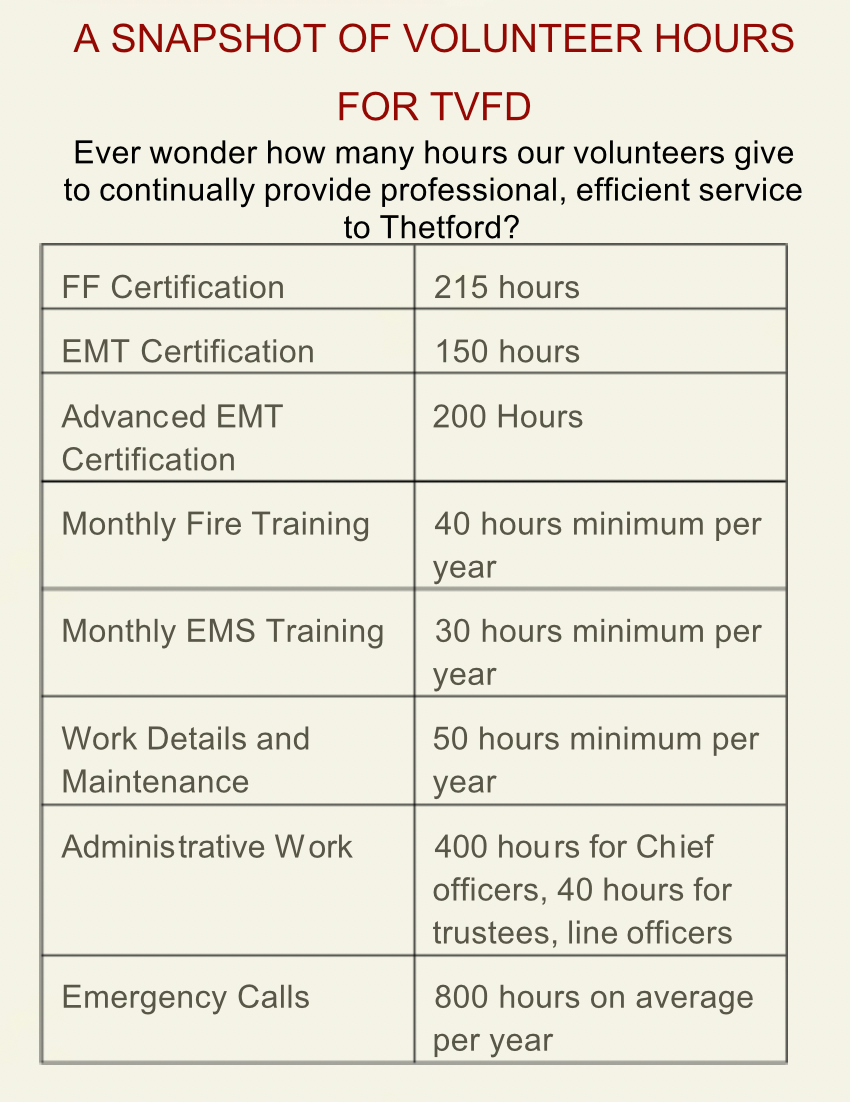 Information also was sought from former board presidents. One offered that they had heard "through the grapevine" that "the department is about a 4th the size it was not too long ago." Regarding the bridge closure, they admitted to being "a little concerned ... The bridge closure will multiply the danger of a large fire, although Fairlee and Norwich are also mutual aid."
Another declined to comment and professed that they no longer had any connections with the TVFD.
As a private organization TVFD is not subject to Open Meeting Law or the Public Records Act. It receives 100% of its funding from Thetford's taxpayers. This year, that totaled $316,581, an increase of 4.7% from the year before, making it 10.4% of the municipality's total spending. Unlike a public department, it is not required by law to answer questions from the public or provide information about its operations.
According to TVFD's 2020 Form 990, which is public, almost $48,000 of their budget is for member stipends and Chief Whitcomb's compensation. Chief Whitcomb did state in an email that his 2022 salary is now $31,200, which does not include payroll taxes. In response to the tax form question "Did the process for determining compensation of the top management official include a review and approval by independent persons, comparability data, and contemporaneous substantiation of the deliberation and decision?" TVFD answered "Yes," explaining that it was "Agreed upon by the Board of Trustees."
The IRS recommends, "A governing board should be composed of persons who are informed and active in overseeing a charity's operations and finances. To guard against insider transactions that could result in misuse of charitable assets, the governing board should include independent members and should not be dominated by employees or others who are not independent because of business or family relationships." Yet, Chief Whitcomb and his wife, the Assistant Chief, are on the Board of Trustees.
When concerns were raised by the Selectboard, a Public Records Request revealed that Town Manager Bryan Gazda reminded Selectboard Chair Sharon Harkay, "Remember that the Fire Department is [their own] entity and not a town department, so we need to tread lightly on how [they] operate." Chief Whitcomb did email Gazda to say, "We are an active mutual aid partner in the Upper Valley Regional Emergency Services Association, our local mutual aid association, and regularly provide mutual aid to our neighboring towns. We also receive mutual aid, when needed, as does every other fire department within this mutual aid association. To correct the misinformation that is being spread around town, I want to confirm that the Fire Department has sufficient membership to handle emergencies that arise."
This is not to say we begrudge firefighters or their Chief their due compensation for the difficult and dangerous work they perform. However, there appears to be merit to residents' concerns about the actual number of firefighters, particularly with the specter of 18 months without mutual aid from Lyme.
To find out more, interested and concerned citizens can attend meetings of the TVFD trustees (contact Chief Scruggs for meeting information). An even better way to learn all about it would be to volunteer for the Fire Department.