Cell tower on Quail John Road to grow by fifteen feet
T-Mobile is hoping to expand their coverage.

From a few vantage points on Godfrey and Old Stone roads, a taller-than-average pine tree may be seen jutting above the treeline. This is a new "species" — a monopine (aka monopole tower disguised as a pine tree) — that is increasingly springing up around populated areas, or along interstates, where pine trees are endemic. It is a way for cell service providers to meet the ever-growing demand for coverage while avoiding the most obvious visual impacts of the standard cell towers and their crowns of antennas.

The cell tower near Godfrey Road is the subject of an application by T-Mobile North LLC to bring their services to our area by adding onto an existing monopine that was constructed by a different company, American Tower. T-Mobile has submitted an application to the VT Public Utilities Commission (PUC) for the necessary certificate of public good (CPG) to add fifteen feet to the top of the monopine. This will carry six new antennas. Three antennas will be 8 ft high by 2 ft wide, three will be 6 ft 4 inches by 11 inches. This is essentially a similar dimension to the existing antennas.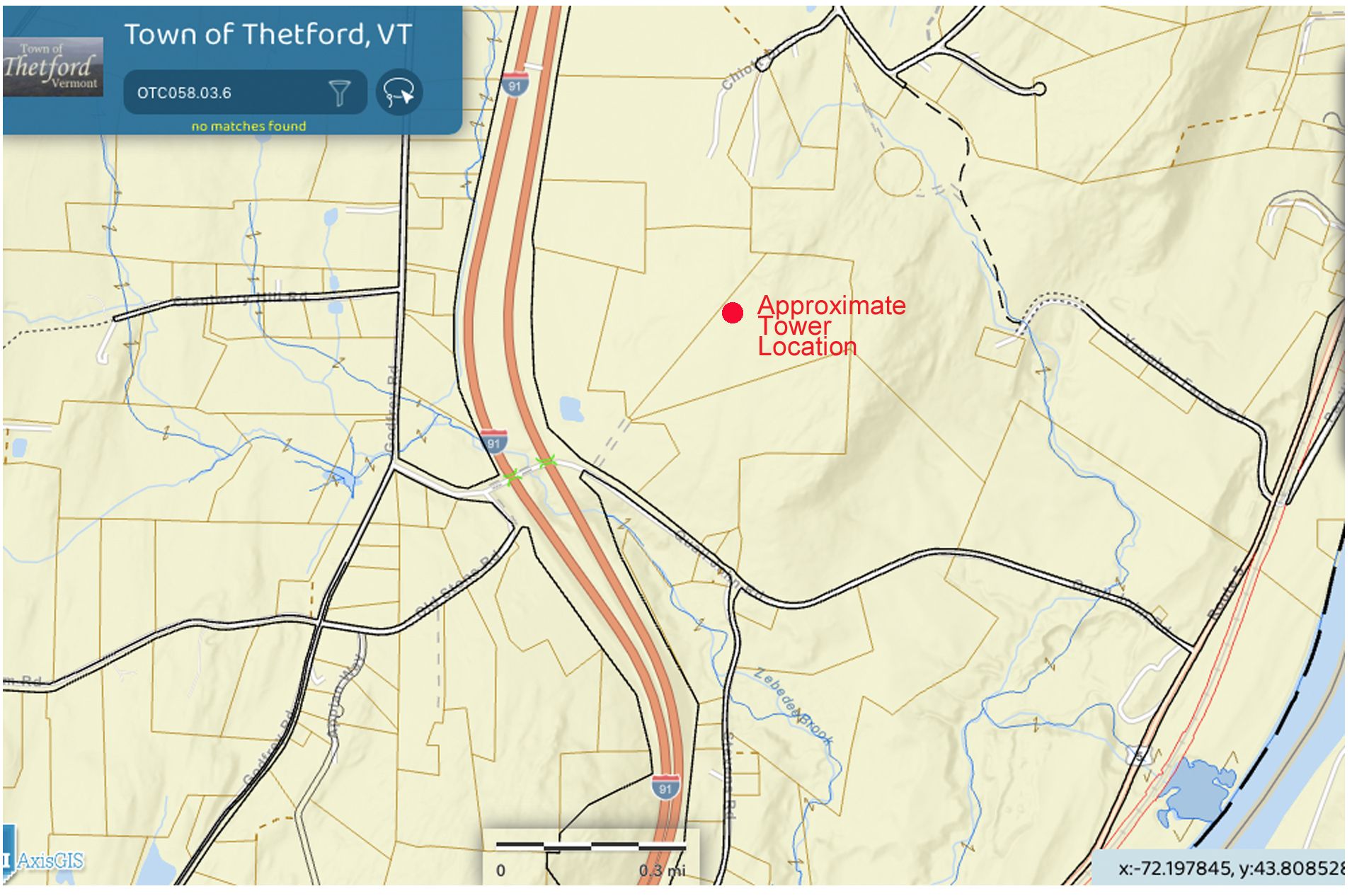 They also propose to install six new reverse radio heads that will be placed behind the antennas and thus not visible. Reverse radio heads are part of the apparatus that runs cellular communication, and mounting them on the tower saves space on the ground. They are connected to equipment on the ground, the so-called base station, by a fiber optic cable.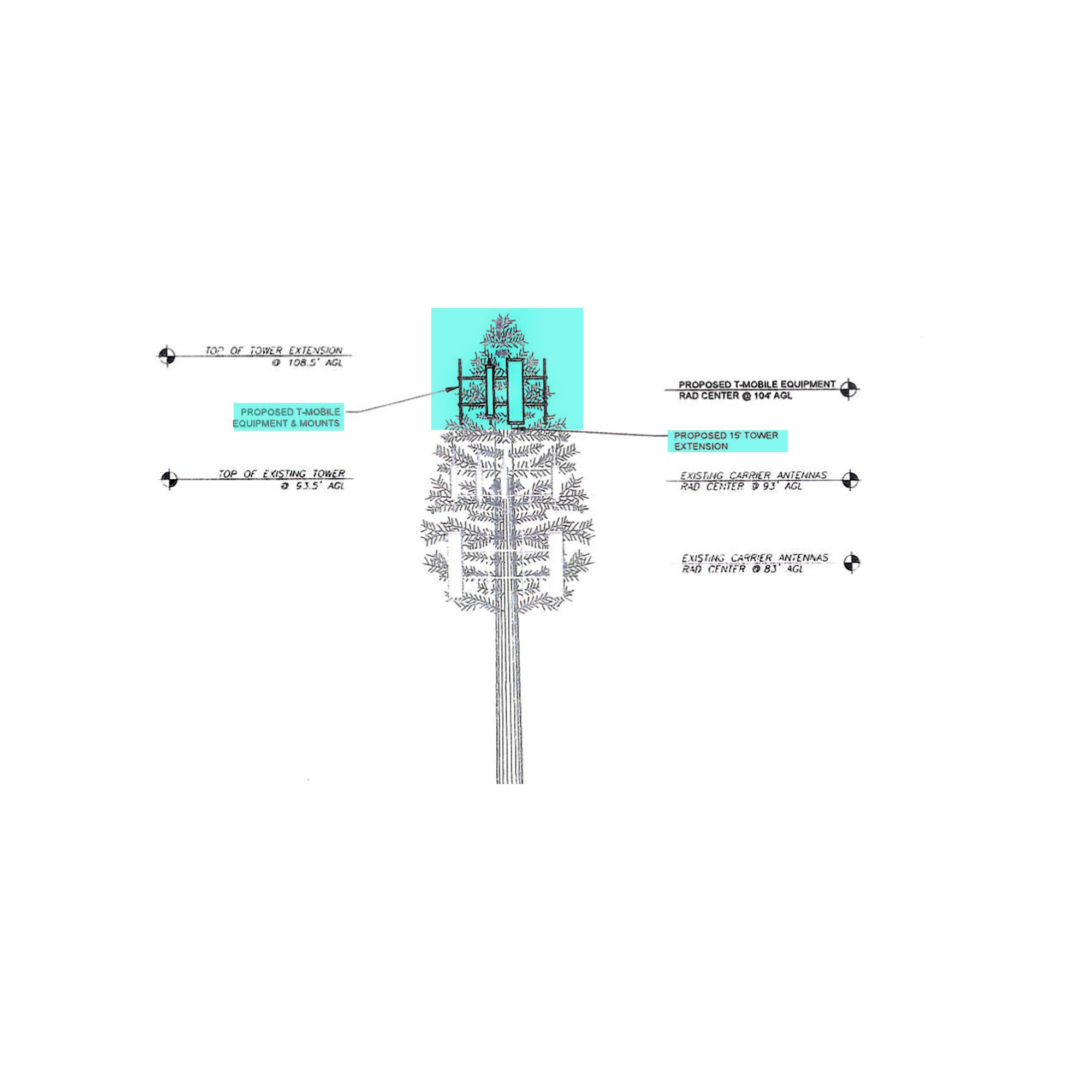 The base stations for the new antennas will be built inside the existing compound at the base of the tower. No new soil disturbance or vegetation clearing will take place. T-Mobile will rent a 15 ft by 10 ft space from the tower owners, where they will build three equipment cabinets. These will house signal transceivers, a router, rectifiers to provide direct current, and a backup power source.
The Telecommunications Act of 1996 states that towns may not "effectively prohibit" wireless service by excluding towers through regulations that govern land use, for instance municipal zoning bylaws. However, the application process for installing or adding to a tower does allow for public input. Tower applications have even, on rare occasion, been successfully denied, but the legal process is long and costly. In the case of the Quail John tower, the abutting neighbors, the Town Clerk, and the Selectboard all received the Advance Notice "in support of a proposed modification to a wireless Telecommunications facility at 1112 Quail John Road" in May of this year.
The law allows that a public meeting with the applicant may be held "within the 60-day period before filing an application for a certificate of public good" so that public concerns may be aired. In a communication on September 22nd, T-Mobile noted that "while there were comments from the VT Agency of Natural Resources (concerning a deer wintering area), no other party which received an advanced notice of the project raised any concerns or objections to the project during the sixty day advanced notice timeframe."
While disguising cell towers as trees seems like a clever idea, there is a drawback. Those fake pine needles are plastic, and plastic degrades and becomes brittle in sunlight.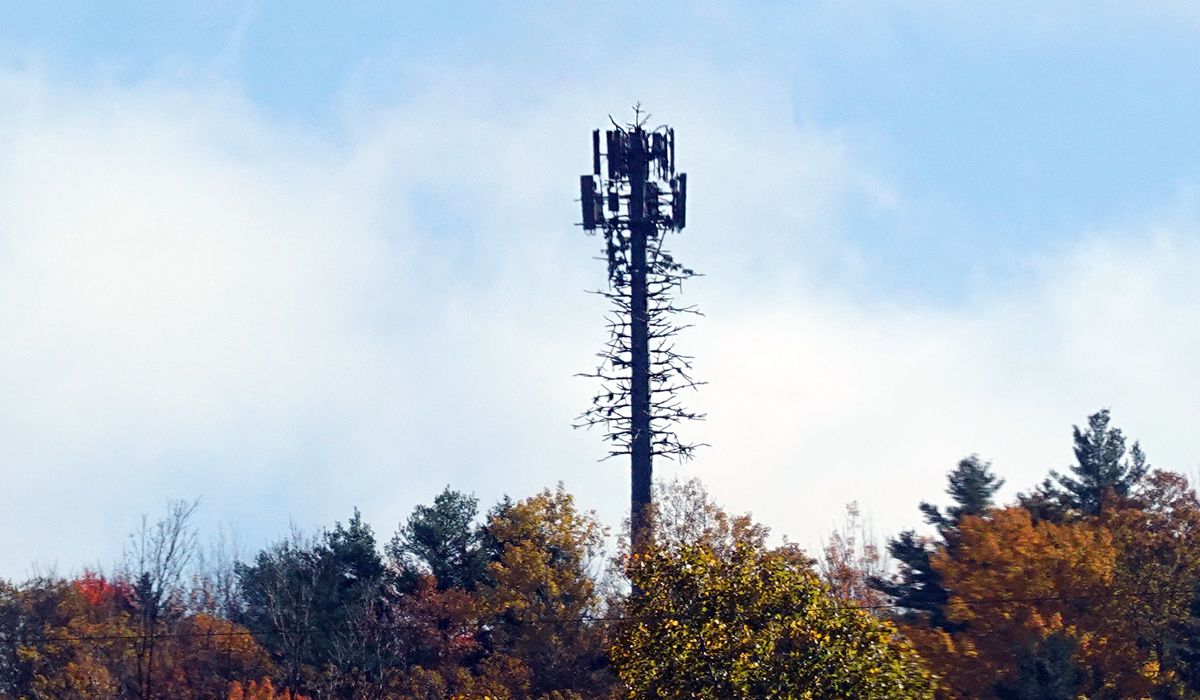 A publication by the Environmental Health Trust described an area under a monopine that was covered in "an enormous debris field comprised of many pounds of fallen PVC plastic faux pine branches."  A legal brief in a court case in the Lake Tahoe region also noted the "massive quantities of faux PVC branches and PVC pine needles that will adorn Verizon's metallurgical monstrosity… just waiting to break off of the monopine in the next major windstorm or snowstorm, and thereafter, fly down into a widely-dispersed debris field below the tower."  It doesn't stop with a debris field; plastic continues to degrade into microplastic, minute particles that are washed into streams, rivers, and eventually the ocean. Microplastic is also ingested by small creatures and incorporated into the food chain.
However, unless the Town wishes to challenge the plastic-clad addition to the Quail John tower by a legal maneuver — intervening in a hearing before the PUC — the fifteen-foot growth spurt is a done deal.
Diagrams provided by T-Mobile LLC Photo credit: Li Shen