What happens to electronic "waste"?
Thousands of pounds of electronics are collected every year in Thetford.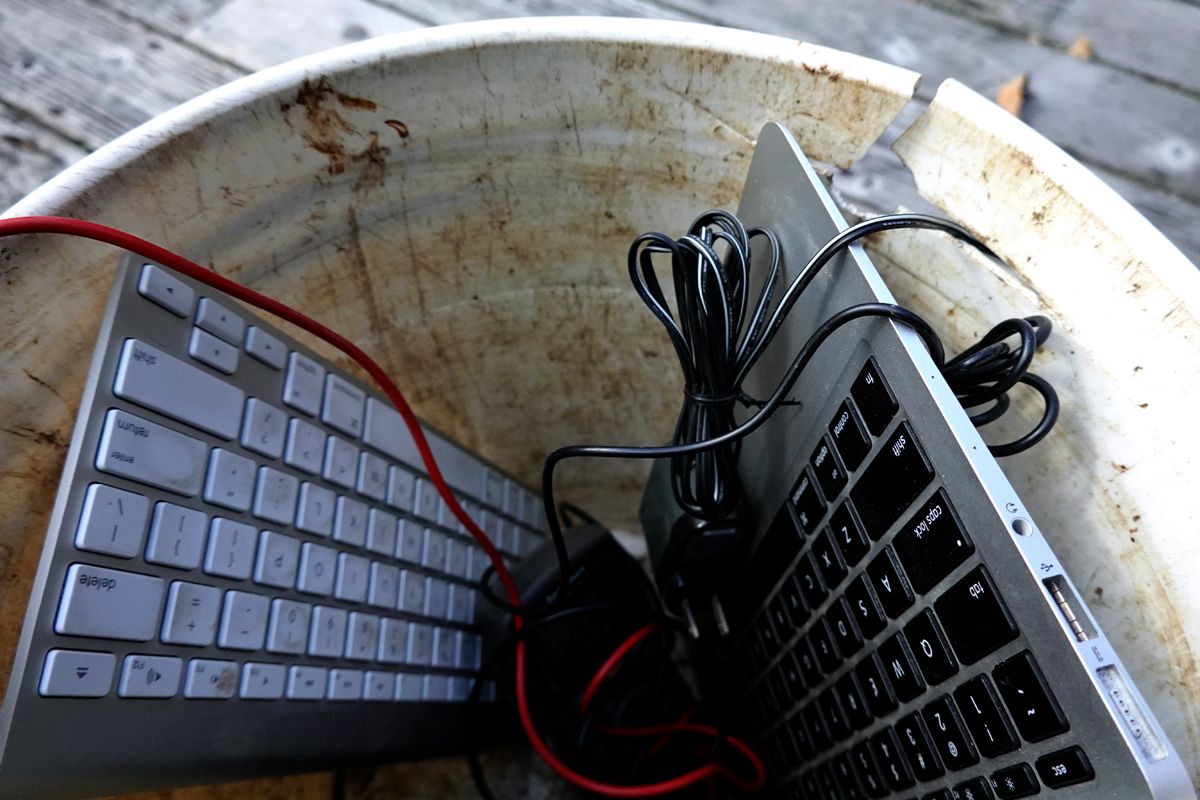 On September 24th, Thetford hosted a "bulky trash" pickup day that was run by Hamilton Gillette from Greater Upper Valley Solid Waste District (GUV). The trash was divided into two streams, "Big Trash" like tires and furniture and Electronics. Residents came not only from Thetford, but from surrounding towns like Strafford.
Electronics turned out to be a pretty broad category ranging from computers, monitor screens, and printers to appliances like vacuum cleaners, air conditioners, fans, coffee makers, and even a bread machine.
This mountain of miscellany is taken by Good Point Recycling in Middlebury, VT, and the amount collected is staggering. Good Point runs three collection trucks and has one driver. The driver takes one truck to Thetford, fills it, returns it, and immediately takes one of the other trucks and starts off to the next collection point. This leaves time for the staff to unload the full truck. They collect in Vermont and New Hampshire and a few towns in Massachusetts.
Numbers for what was collected in Thetford on September 25th, 2022, are not yet available. However,  Hamilton provided the numbers for the preceding three years.
In 2019, 6 pallets of "covered electronics" (computers and anything that plugs into one) and 5 pallets of "non-covered electronics" (everything else) were collected in Thetford, totaling 5,333 pounds. In 2020, 12 total pallets were collected totaling 6,511 pounds. 2021 saw the biggest yield, with 13 pallets collected totaling 7,417 pounds.
Judging by the truck this year, which was full to overflowing by the end of the collection, September 2022 is going to yield easily as much as 2021.
Good Point is run by American Retroworks Inc. who, according to their website, is "a nationally recognized electronics recycling company and a respected expert in 'Fair Trade Recycling.'"
There are up to a dozen employees on-site in Middlebury who unload the pallets and sort laboriously through the piled-up electronics. They examine everything and put aside items that can be reused. Roughly 10% of what is collected is fit for the reuse market, and the revenue is used to defray the expense of disposing of the trash items.
Some of the computers and TVs are still useful. A number of Good Point employees are trained in electronics repair by international experts. They have learned to identify repairs that are not cost-effective, so those items are removed from the repair stream. They also know to disqualify certain brands because of parts availability, durability, or lack of demand. Good Point works with a job training program in Addison County where people spend hours testing and repairing electronics. Hard drives are wiped clean and extracted, to be sold to secondhand dealers or through Craigslist. Good Point also has an Ebay store through which items, either refurbished or containing useful parts, are sold.
That still leaves about 80% of what was collected — a lot of junk. But even the junk is sifted for raw materials, in a manual process called demanufacturing, at their facility in Brockton, MA. Back in the 1980s, there were about 100,000 TV repair men in the US. Today that number is minuscule. However, those that still ply their trade need spare parts and antique parts for older models. Printed circuit boards can be re-sold to the EU and Japan under a legal import notice.
In demanufacturing, tiny and odd-shaped screws must be removed manually so that they don't contaminate the raw materials. Steel, glass, aluminum, copper, and plastic, etc. are teased apart and sorted to commodity grade. Demanufacturing by hand is preferable to machine shredding, which is practiced by many recyclers. For one thing, a machine "cannot tell a 1 Gig stick of RAM from a 32 Meg stick of RAM." The raw materials that are the end product of shredders are also contaminated, whereas even the plastic sorted out by hand is very clean and high quality. It may actually increase in value while the rest of the recycled plastics market hits a downturn. The central processing units (CPUs) of computers, when manually dismantled, yield high-purity metals that replace mined ores from mountain tops and coral reefs.
It is disheartening to see the piles of electronics — some that look relatively new, in a few cases never-used and in their original packaging — that are discarded. However, it is encouraging that people at least take them to be recycled and that Good Point does such a tremendous service in recovering what it can from what would otherwise be wasted.