Thetford's unconventional playwright, Duncan Nichols, premieres "Myth Makers" on August 28th
No reservation needed. By donation, cash or check. All proceeds benefit Doorways Into Good Shelter.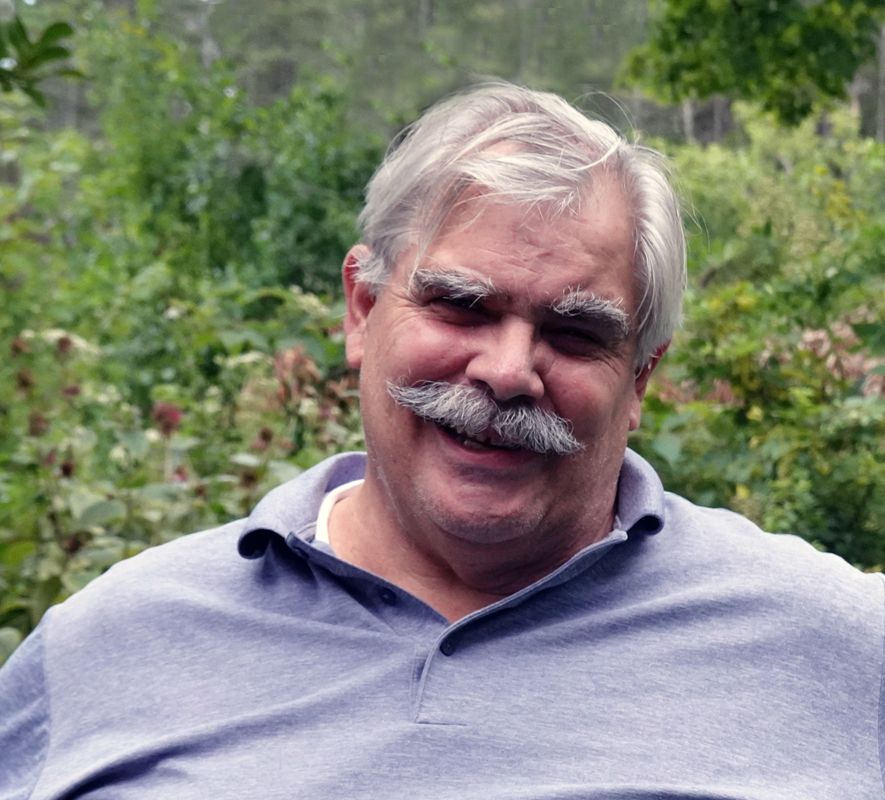 In 2002 Duncan Nichols started writing plays. He initiated and performed in what became "Cabaret Moose" a community event of locally crafted short acts staged at the Blue Moon Cafe in South Strafford. That experience left him with the urge to write a script himself so he could direct how the drama played out.
A series of five plays followed over the course of many years. Perhaps writing drama was in his blood. His father, the late writer Bob Nichols, had also authored plays, back when he lived in New York City. They were performed off-Broadway in the progressive Judson Memorial Church, where several avant-garde performers like dancer Merce Cunningham and conceptual artists Robert Rauschenberg and Yoko Ono had their beginnings, prior to fame. Bob Nichols participated in this Greenwich Village creative community before moving to Thetford Hill in the 1970s to engage in "intellectual and radical" aspects of farming.
The plays Duncan writes are unconventional. Plots are non-linear, with injections of fantasy and magical leaps in time and space. Individual character development is beside the point. As Duncan explains, the characters don't develop, they are representations that exist to fulfill a function, for showing something, not to tell the story of their lives. He refers to Bertolt Brecht's The Threepenny Opera, "a play with music" that was, in fact, a socialist critique of capitalism.
In a similar vein, Duncan's plays have often drawn on social or political issues. His first play was in response to the George Bush "war on terror" in Afghanistan and Iraq. The plot followed two Americans who are out skiing in NH only to find themselves transported to a mountainside in Afghanistan. They descend to a village where they encounter Afghan people.  
His second play arose from a short news article about workers in the cut-flower industry in Ecuador. He learned that perfect long-stemmed roses and other flowers are the product of heavy pesticide use. Workers in contact with these flowers all day long are poisoned, with a high cancer rate among their children. To Duncan the juxtaposition of roses, Valentine's Day, and poison was a powerful metaphor for our world.
But there is a second, equally compelling, inspiration to Duncan's works — the music.
Duncan listens to music while writing, and it is the music that drives his creativity. For his first play he listened to Afghan music. Much of it came from the Paddock Music Library at Dartmouth College that housed a sizable collection of ethnic music. For Duncan, the Paddock Library opened "a big barn door" onto the world. And the music was incorporated into performances within his dramas.  To re-create Afghan music Duncan worked with Thetford musicians Chris Hebb (a major contributor in most of Duncan's plays), Rick Barrows, and Steve Ferraris. They found that by down-tuning Rick's banjo they could produce a sound like the dutar, a long-necked lute played all the way from China to central Asian countries like Afghanistan.
Sadly, the Paddock Music Library closed in 2021, citing a large decrease in lending.
Dancing, too, is featured in some of Duncan's plays, with Duncan as one of the dancers. His second play featured samba music brought to the new world by African slaves, and samba dance. He has worked with a Strafford-based dance group headed by Carol Langstaff and also participated in a belly dancing camp in Egypt. He was with "a lot of women" but nonetheless delighted in the company of "beautiful people who love to dance" on a beach, under big tents by the Red Sea.
Unlike previous works, Duncan's newest play, "Myth Makers," is strictly American, including the music. To even reach their seats, the audience must pass a series of musicians — running "a gauntlet of music."  Duncan describes the main type of music as "American music" ranging from folk to rock and roll.  The play begins with migrants caught in a tragic situation, but then transports the audience to a time 1000 years in the future, when descendants of these people live underground because the surface of the planet is uninhabitable. The play depicts a day in the life of this subterranean society and a people who are peaceful and egalitarian. Somehow, cowboy music and punk also feature in the drama, as the people literally mine music from underground rocks.
"Myth Makers" will premiere at the Briggs Opera House, White River Junction, Vermont.
SUNDAY AUGUST 28, 7pm -- one night only!
No reservation needed. By donation, cash or check. All proceeds benefit DIGS (Doorways Into Good Shelter) creating emergency shelter for unhoused individuals in Lebanon, NH and Hartford, VT. Donations can be made at the theater (cash or check) or by going to digsvt.org to the donation portal.
Photo credit: Li Shen