EXPECT DELAYS: Route 132 reconstruction project gets underway
Residents will be able to sign up for a service that will send automated text updates, details to be announced.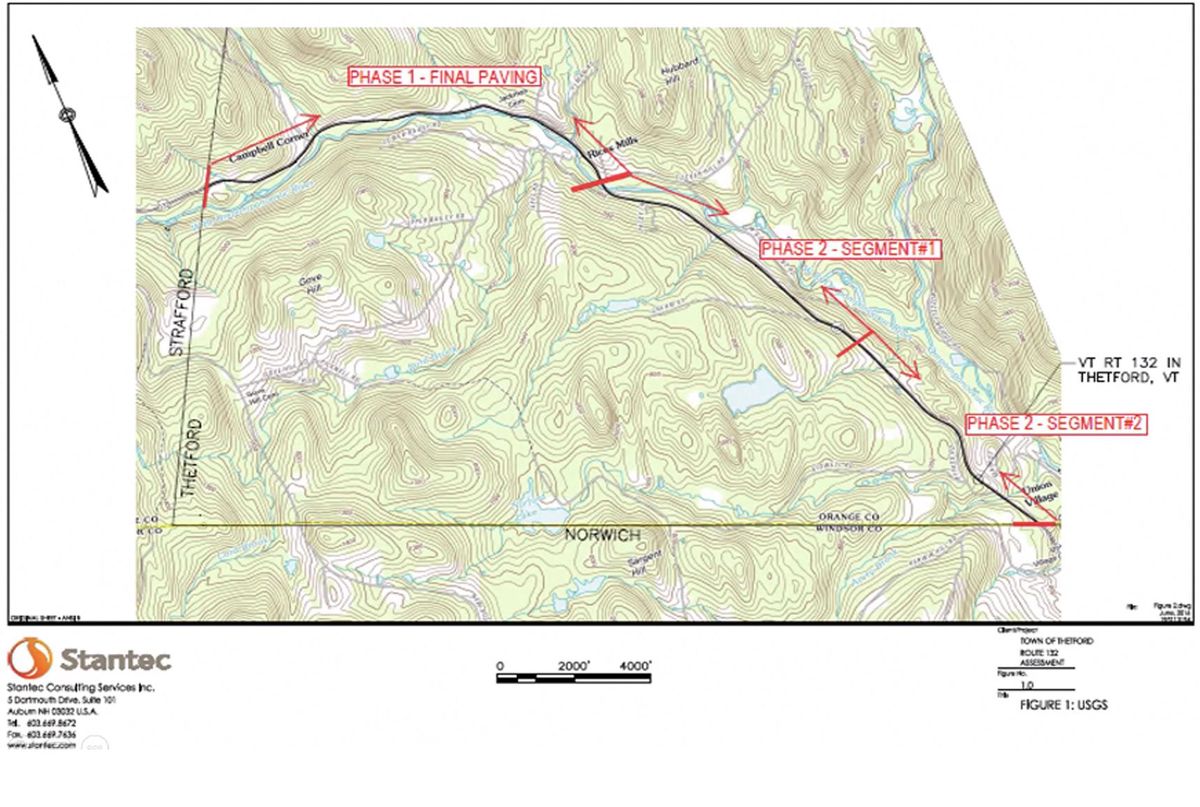 On Thursday June 3rd a public information meeting on Zoom put a spotlight on the long-awaited rebuilding of Route 132. Stantec Consulting Services, the company that did the preparatory studies and engineered the road design, was represented by Brian Ruoff, project and design manager, and principal Rene LaBranche. They were joined by Tim Ulman, head of Northwoods Excavating that will perform the work, and Town Manager Bryan Gazda.
The section of Rt 132 from Tucker Hill Rd to Strafford was rebuilt last year in what was called Phase 1 of the project. There will be some finishing touches in 2021. Ditches will be cleared of silt and seeded, and stormwater flows will be corrected.  Finally, the road will receive approximately 2 inches of asphalt "topcoat" that will seal it to inhibit water infiltration and road deterioration, and shoulders will be installed for a safe transition from road to shoulder. The topcoat step is anticipated to happen in August of this year.
The majority of the meeting focused on Phase 2, the stretch running from Tucker Hill Rd to Norwich. The presentation by Stantec started with a plea to the public to observe safety. While some people may feel the urge to watch the construction process, stopping in the road or walking along the edge is dangerous. A dump truck could back up without warning, and there are numerous other hazards. As in all highway work zones, drivers should proceed slowly and with caution. At times the road surface will be gravel, so vehicles may kick up stones and there may be water accumulation in rainstorms.
Road reconstruction will be performed in 250 ft segments, one lane in the morning and the other lane in the afternoon, leaving a single lane available for traffic. Reconstruction will start with reclaiming – grinding up the top 8 inches of asphalt and gravel. The reclaimed material will be collected and set aside. Ulman's crew will store it temporarily at the Union Village Dam overlook, a pull-out beside Rt 132. However, they will only stockpile about 17 dump truck loads at a time, and the public will still have access to the overlook. The next stage will be "boxing out" the road, excavating it to a depth of another 24 inches and then filling the void with heavy-duty gravel that will be compacted. The reclaimed material will then be layered on top. Recycling road material in this way will have the benefit of significant cost savings and less waste. The work will be phased so that by the end of each day the pile of reclaimed material will be used up and both traffic lanes will be open.
Until the "binder coat" of asphalt is applied, there will be a temporary road surface that will require some amount of maintenance to keep it in good condition.
There's also a large amount of supplementary work needed to get the road back into good shape. This will include reshaping and re-ditching the sides of the road, digging up and replacing old metal and concrete culverts not replaced after the July 2017 storm, replacing guard rails where necessary, and resetting recently installed guard rails. Shoulders will also need regrading, plus new gravel and all signage will be replaced with new signs.  Both Phase 1 and Phase 2 sections will need new stripes painted. The sections of road and culverts that were rebuilt following the 2017 storm will be retained.
Traffic control will be orchestrated by a new automated system as well as the customary human flaggers. There will be a trained operator monitoring the situation on a screen. The operator will be able to override the automatic system if need be, for instance to allow a fire truck or ambulance to get through quickly. In addition there will be an electronic display board to announce warnings to motorists and the usual lines of orange traffic cones and barrels. One lane at a time will be closed during work hours; both lanes will be open after hours and on weekends .
As for the timeline of reconstruction, the Phase 2 part of the project will be divided into two segments: Segment 1 will cover from Tucker Hill Rd to Cream Street. Segment 2 will cover Cream Street to the Norwich line.
Northwoods Excavating provided this timetable for the two segments of Phase 2: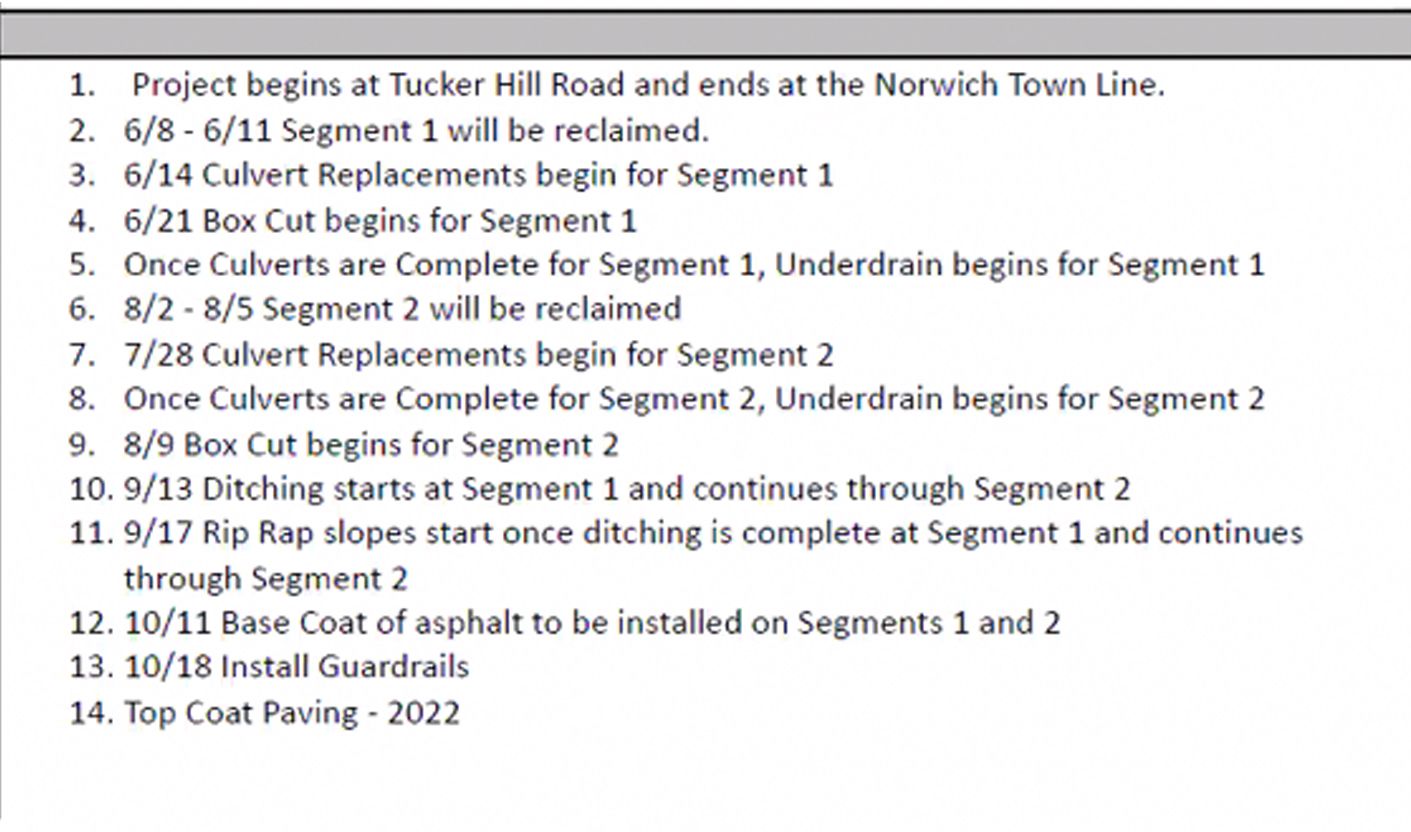 Last, but not least, is communication.
The primary contact for residents' questions will be Seth Potter, Stantec's Field Engineer: cell phone 603-758-8073.
If Seth does not answer, people can call Bryan Ruoff: cell phone 603-854-9501.
Questions related to the Town may be directed to Town Manager Bryan Gazda: Town Hall, 802-785-2922. There will soon be a page on the Town website dedicated to the Rt 132 reconstruction project as well.
Residents will be able to sign up for a service that will send automated text updates, details to be announced.
People should also keep an eye on the construction electronic message board for signs.
Although the official start of reconstruction is Tuesday June 8th, watch out for workers starting on Monday. There will be surveyors taking final measurements and Ulman's crew will be bringing in equipment for this long-anticipated rebuild of a notorious section of Rt 132.