Brave deliveries: the birth of a nation and a community
Richard and Bathsheba Wallace's headstone stands in the old Thetford Center cemetery.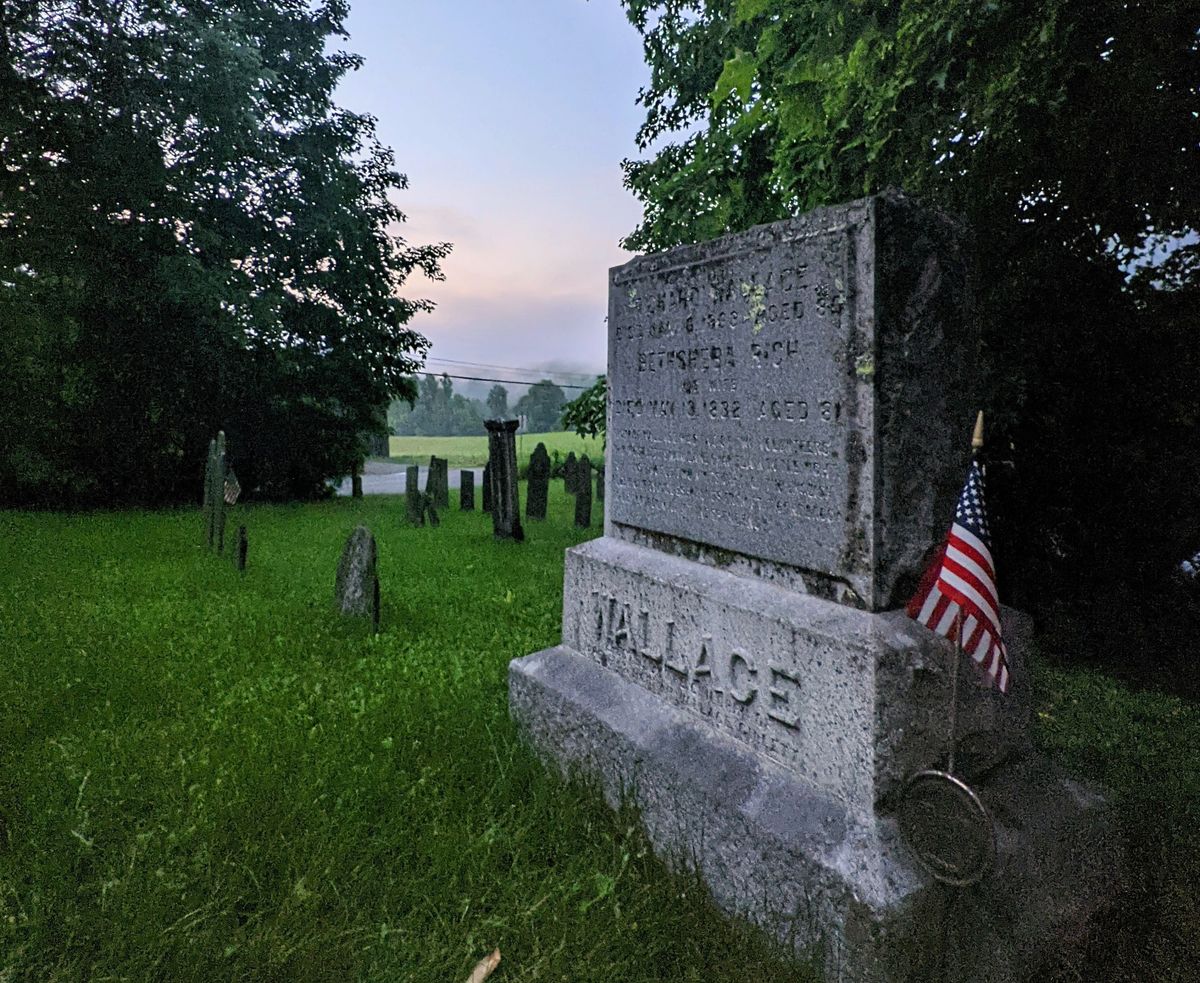 Tucked away atop the old Thetford Center cemetery on Tucker Hill Road stands the headstone of Richard and Bathsheba Wallace. An American flag and U.S. veteran marker are set in the ground beside it. Their stories shed light on life in Thetford during the Revolutionary War and at the turn of the 19th century.
Richard Wallace was born in Nova Scotia. At the age of sixteen, he accompanied Col. Johnston to Haverhill, NH. A few years later he moved to Thetford, cleared some acres, and built a log cabin. In 1776, he married Bathsheba Rich of Strafford, and they began to build their home and farm in Thetford.
America was still in the throes of the Revolutionary War. The Second Continental Congress adopted the Declaration of Independence on July 4th, 1776, announcing separation of the American colonies from Britain. The war itself was far from over as the British were still making attempts to defeat the American army. In 1777 the British General John Burgoyne began a campaign to gain control of the Hudson river, cut off New England's patriot army from the rest of the colonies, and ultimately take Philadelphia. The series of battles that ensued—now known as the Saratoga Campaign— was a turning point that changed the course of the war in America's favor.
That same year, Richard Wallace was visiting Charleston, NH when he heard of Burgoyne's plans. He rushed home to prepare Bathsheba and their farm before enlisting in the American resistance. By the fall of 1777, Burgoyne and his troops had occupied Fort Ticonderoga in New York and the fortification at Mt. Independence in Vermont. The British fleet occupied Lake Champlain. Two American detachments—one from Fort Ticonderoga to the West led by Colonel John Brown and one from Mt. Independence to the East led by General Benjamin Lincoln—were separated and unable to coordinate their next movements against their enemy. The only route between them was the cold, deep waters of Lake Champlain, scattered with British ships.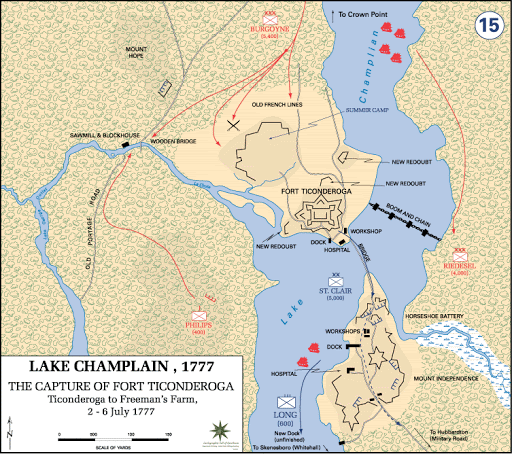 That's when Col. Brown asked Richard Wallace if he could swim. Wallace and another man, Samuel Webster, stepped up and were tasked with swimming across Lake Champlain to deliver dispatches to Gen. Lincoln. That evening after sundown, Wallace and Webster undressed, tied their clothing in bundles across their backs, and waded into the chilled September waters of Lake Champlain. They swam approximately two miles across the lake, zig-zagging to avoid the British ships and both nearly drowning from the weight and cords of their clothing. An account from the Gazetteer Of Orange County, VT 1762-1888 notes, "They passed so near the British shipping as to hear the oft repeated cry, 'All's well!' which they took pains not to correct, and buffeted the waves with stout hearts and sinewy limbs." After both men survived the crossing, they wrung the water out of their clothing, dressed, and made their way to Lincoln's encampment in the dark. They achieved their task and successfully delivered the dispatches to Gen. Lincoln. Wallace and Webster's brave crossing allowed Col. Brown and Gen. Lincoln to strategize against Burgoyne's next advance, coordinate the attack on Ticonderoga, and save the lives of many fellow patriots – including prisoners that had been captured by the British.  
---
If you've ever driven down Tucker Hill Road near Route 132, passed Bathsheba Lane and thought to yourself "I wonder why it's named that?" – you aren't alone!
If you were an expectant mother in Thetford in the years following the American Revolution, chances are you'd be calling on the renowned midwifery capabilities of Bathsheba Wallace or "Granny Wallace." Bathsheba Rich was born in New Milford, Connecticut in 1752. She then moved with her family to Strafford, VT. Her father, Jonathan Rich, was one of the early settlers of Lyme, NH. While her husband, Richard Wallace, served in the revolutionary war, Bathsheba tended to their farm and crops in Thetford. The Wallace Farm was located near where Bathsheba Lane is today: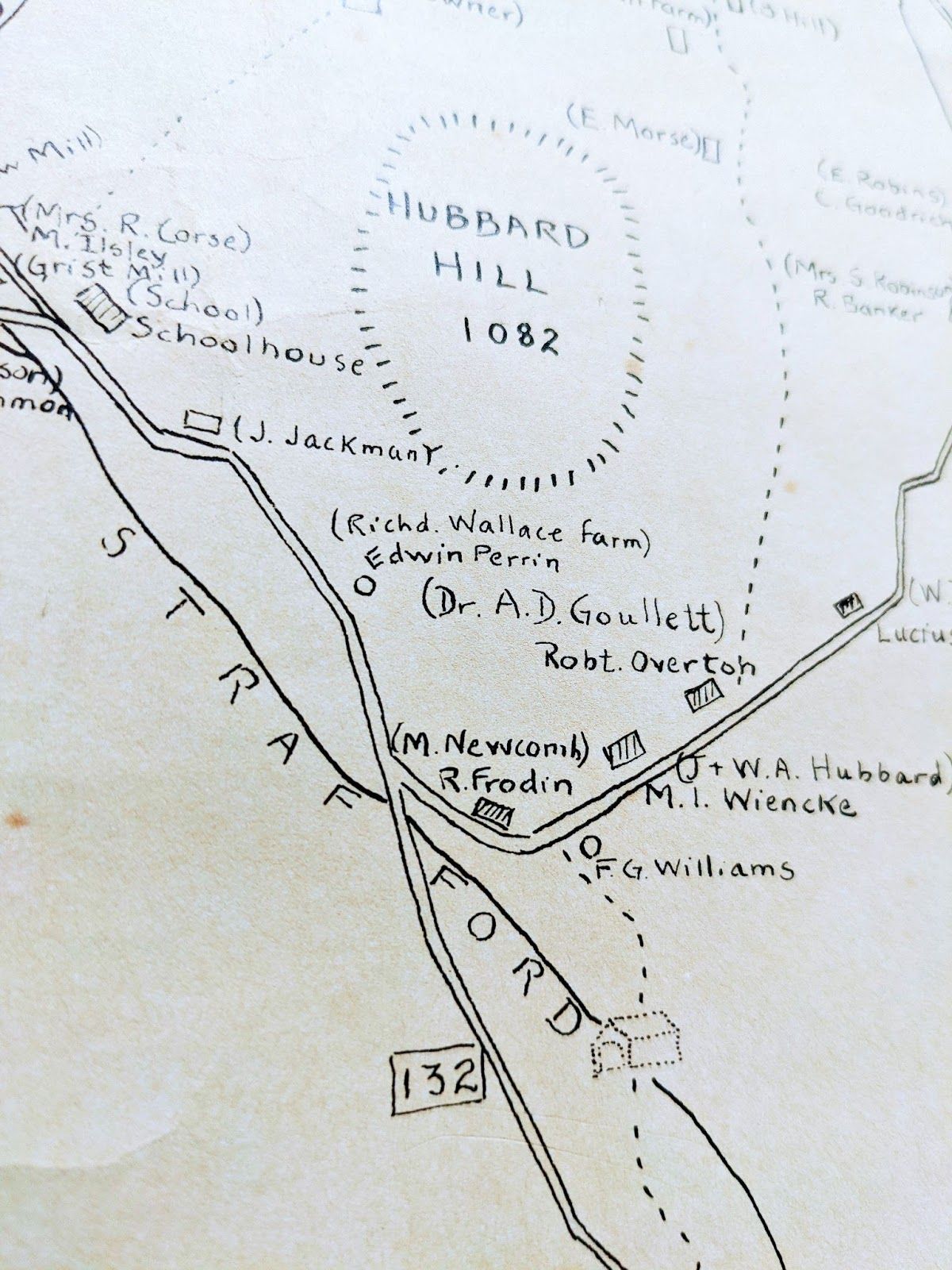 Bathsheba earned the name "Granny Wallace" because she was a respected and beloved member of the community. According to the Gazetteer Of Orange County, VT 1762-1888, Bathsheba never lost a mother in her care during her 45 years as a midwife in Thetford and surrounding towns. She was present at the birth of over 1,666 babies—including 21 pairs of twins. According to a Thetford Historical Society paper written by Martha Howard: "She was an accomplished horsewoman, and her sorrel mare with Bathsheba astride must have been a welcome sight to laboring women in need of her care. Day and night, good weather or bad, Bathsheba responded to requests for assistance. She and her horse are even credited with crossing the swollen Ompompanoosuc River on a bridge stringer to reach a woman in distress on the other side." At her funeral, Bathsheba was surrounded by many that she had helped bring into the world. Martha Howard also writes that her funeral was "a comforting completion of a circle."
The engraving on their headstone reads, "Richard Wallace. Died January 16, 1833, aged 80. Bathsheba Rich, his wife. Died May 13th, 1832, aged 81. Richard Wallace was one of two volunteers who in October 1777, swam Lake Champlain in the night for a distance of two miles through the English fleet carrying dispatches from Ft. Ticonderoga to Gen. Lincoln at Mt. Independence. Erected by the children of Henry and Hannah Wallace Gillett."
Much of the historical detail in this article is credited to Thetford VTGenWeb, Larry Coffin's In Times Past local history blog, revolutionary war.us, and the Thetford Historical Society. You can read Richard Wallace's own narrative of his crossing at American Heritage.