A new cinema marks Thetford Center's quiet revitalization
The finest body of films and plush furniture that seats 25.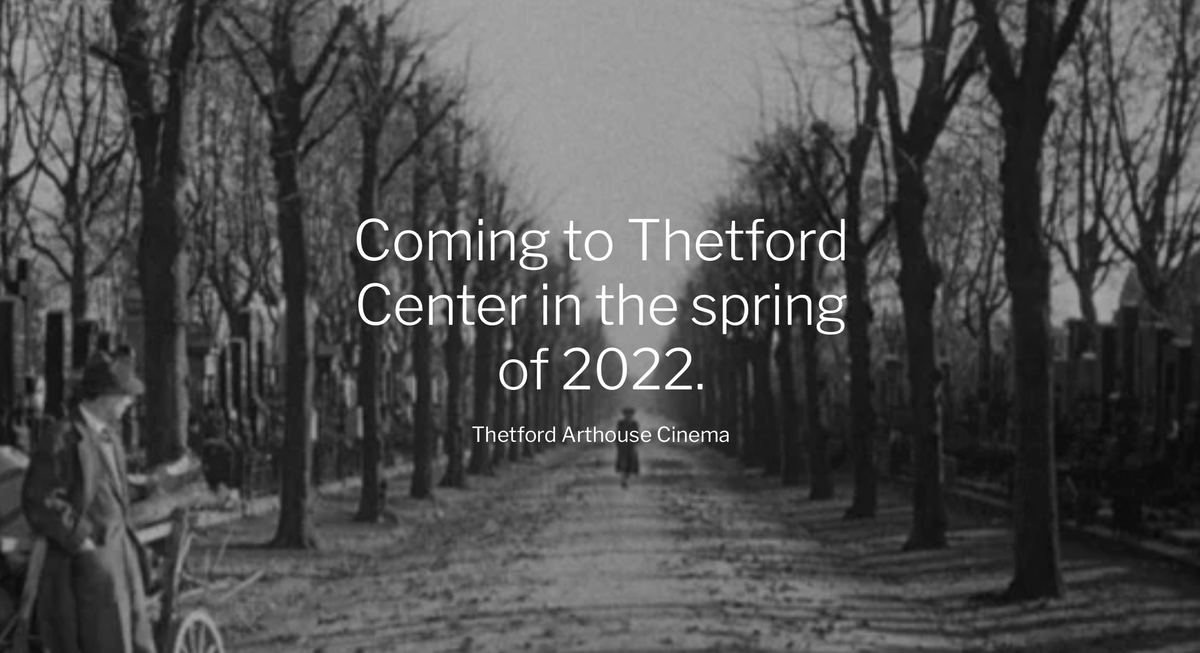 Thetford Center has been experiencing a quiet revitalization in the past few months.
It was welcome news when Thetford Center's Village Store re-opened after closing during the pandemic. At least two new housing units have been created in the village, with the possibility of three more identified. Watson's Automotive, a local family-run auto repair shop, purchased the previously inactive garage a few lots down from the Town Garage and has slowly begun operations, marking an expansion to their East Thetford business.
Thetford Center, along with Thetford's other villages, was recently enrolled in the Village Center Designation Program for the first time. A marker sign was added to the village's covered bridge, Town Hall could see substantial energy upgrades, and, the Thetford Community Center Association (TCCA) has been exploring new ideas and events, such as their novel and now twice-held local market staged on the Thetford Center community green.
And don't forget Big Trash Day, traditionally held at the Town Garage, is getting back into the rhythm after cancellations and postponements related to the pandemic.
Now, coming to Thetford Center in the spring of 2022, is Thetford Arthouse Cinema, spearheaded by part-time resident Arthur Kahn.
Beginning in late April, 2022, and running into October, Thetford Arthouse Cinema will be screening films at the Thetford Community Center on Route 113. The plan is for arthouse films on Tuesday nights, repertory films on Friday nights, and Saturday morning films for children 8-16 years old.
Of course, their website explains, the exact opening will depend on cooperation from suppliers and the COVID-19 pandemic. Once open, however, all films and refreshments will be free of charge for the 2022 season, supported primarily by donations.
Why a cinema? "Experiencing films with other theatergoers, in a true cinema setting, is a community event in which local residents can meet each other, share a little popcorn and wine, and stick around to talk about the film if that suits them."
You have our promise that these screenings will comprise the finest body of films shown in the Upper Valley, that our programming will be uncompromising, and that you'll love (or not) the films but will always go home glad you spent the time with us.
As for seating, the cinema expects to accomodate 25 in "plush furniture" by online reservation.
Thanks to an in-kind donation from Chuck Devries of Thetford Center, the cinema is acquiring the requisite equipment – a projector, screen, sound system, and blackout curtains – at cost. You can learn more about the types of films they'll be screening on their website,  join their newsletter for the latest updates, or even join the likes of the Byrne Foundation and make a donation.