Many parties help to restore a floodplain in Post Mills
Majestic silver maples may once again preside over the rise and fall of floods.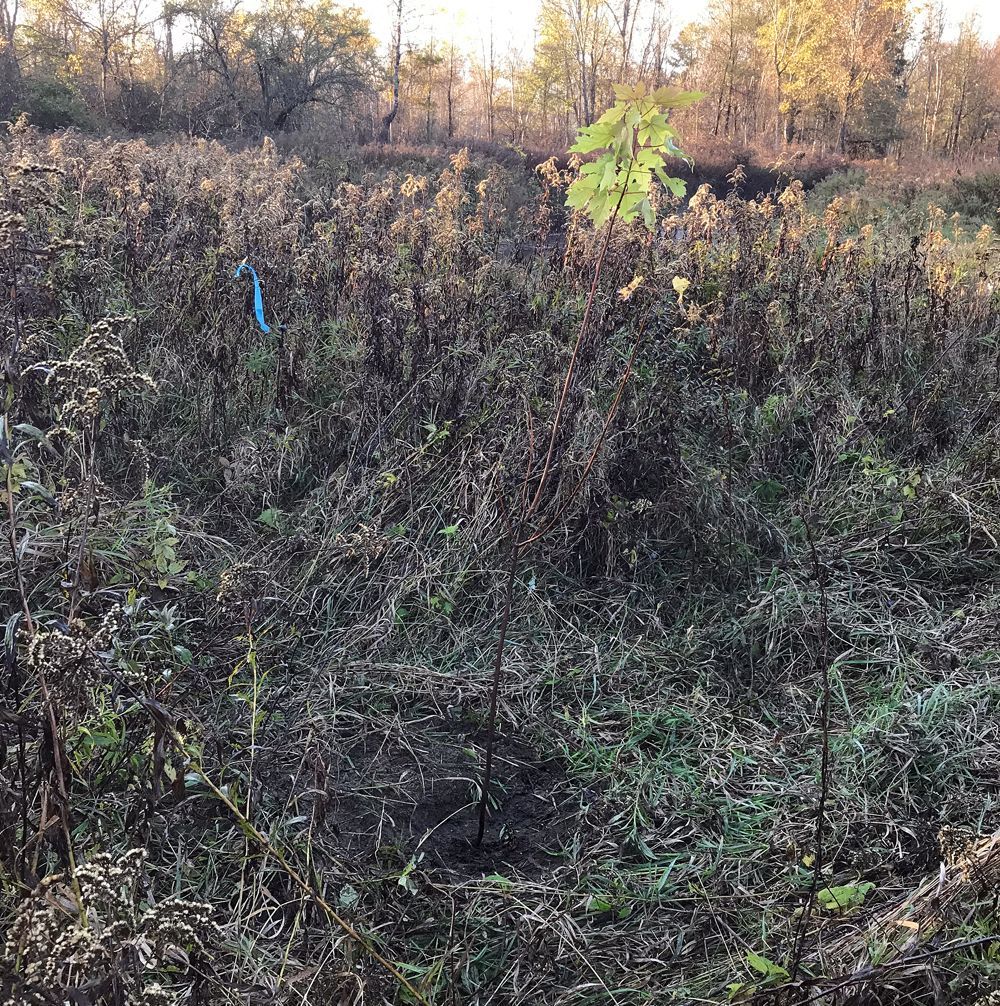 This fall a collaboration of multiple partners oversaw the planting of 817 young trees and shrubs on a portion of the Taylor Floodplain Preserve on the Ompompanoosuc River in Post Mills. Coordinated under the umbrella of the Thetford Conservation Commission, partners included the Town's consulting Forester Ehrhard Frost, non-profit organizations, and several neighbors. The planting itself is a big achievement; however, the true significance of this undertaking is best appreciated by a glance back in time to pre-colonial days.
Picture a river flowing gently in wide sweeping meanders. On either side grow luxuriant forests of towering silver maples and elms. Tree limbs arch over the water, shading it to the benefit of cold-water fish such as native brook trout. The forest floor is bathed in subdued light and dominated by chest-high ostrich ferns and occasional colonies of wood-nettle. The land is low-lying, rising into terraces at the sides of the valley. Here, flood-tolerant silver maple and elm give way to sugar maple, red oak, and a diversity of other species.
A long list of migratory birds breed in such riverine forests, including the cerulean warbler, northern oriole, great crested flycatcher, veery, warbling vireo, blue-gray gnatcatcher, and yellow-throated vireo.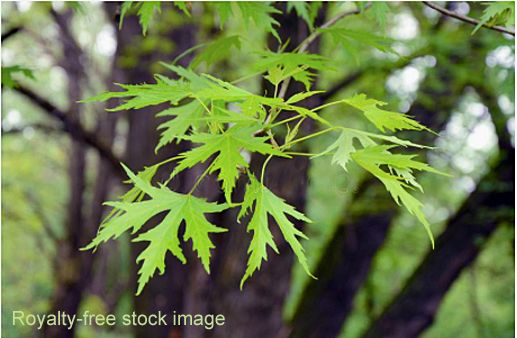 This low-lying land is referred to as river floodplain because it is regularly inundated by spring floods. Floodplains undergo periodic re-arrangement due to river action. Sometimes the river floods in a big way and cuts a new channel to bypass a meander, which remains as an arc-shaped pool, or oxbow. During flooding the water drops its heaviest sediment close to the river, forming natural levees. The non-uniform deposition of sediment creates a topography of dry ridges and wet depressions that support diverse micro-habitats for many animals such as wood frogs and blue-spotted salamanders, and an assortment of plants, some uniquely adapted to floodplains.
Floodplains are important for biodiversity in the landscape. But from a human perspective, they are critical relief valves for rivers, allowing floodwater to spread out in a wide shallow swath, dissipating its destructive velocity. The slowing of floodwater also permits settling of sediments — life-giving topsoil formed over centuries — that would otherwise be flushed into downstream lakes or reservoirs where it causes nutrient overloading, algal blooms, and bad water quality.
Natural floodplains and their magnificent forests are almost non-existent in today's Vermont. Likewise, birds that depend on floodplain forests for breeding, like the cerulean warbler, are extremely rare. Beginning in the 1700s, European settlers cleared the floodplains because the enriched, rock-free soils were prime sites for agriculture. Native vegetation was often replaced with pasture grasses imported from Europe. With agriculture came floodplain settlements, followed by business and industry. This infrastructure was often built in harm's way, and people demanded protection from floods. So rivers were artificially constrained in deep channels by berming, dredging, etc.  to stop them from overflowing into floodplains, thus generating a false sense of security. A flooding river was thus concentrated into a raging torrent with huge erosive force that destroyed all in its path, including bridges and roads. Taxpayers foot the bill for past poor decisions and will continue to do so as rainstorms intensify with climate change.
Lately the importance of keeping floodplains natural has gained recognition. Coincidentally, dairy farming is starting to change. Cows are less often in fields and more often in barns. Marginal, wet pastures in floodplains may be disused and growing weeds. Unfortunately, they don't automatically sprout new floodplain forests. Instead they are overrun by non-native, invasive plants and vigorous goldenrod.
Such is the case on the Taylor Floodplain Preserve, an abandoned field and former gravel pit in Post Mills. It's now owned  by the Town of Thetford through the generosity of Tim and Janet Taylor of Crossroad Farm. Part of the land was excavated for gravel when I-91 was constructed, and almost all the parcel forms a floodplain. A rough calculation shows that if this 37-acre lot were flooded to an average depth of only two feet, it would hold about 20 million gallons of floodwater. That's 20 million gallons that can make its way downstream in a more leisurely fashion.
Despite the profusion of invasive plants like Japanese knotweed, poison parsnip, buckthorn, Japanese honeysuckle, barberry, goutweed, etc., native floodplain vegetation persists. It includes uncommon plants: Wiegand's wild rye that is limited to lush floodplains, and loose-stemmed sedge, adapted to elevated but moist positions. In addition there is an unusually large population of the rarely encountered slippery elm, though most have succumbed to Dutch elm disease.
Restoring this floodplain to native vegetation is a bold initiative that has gained support, and the Commission has made great strides in meeting its goal. First and foremost, it attracted funding to help with the project. The Vermont Fish and Wildlife Department awarded a Watershed Grant that is financed through their Conservation License Plate program, in recognition of its importance. Katie Kain arranged the transfer of funds from the US Department of Fish & Wildlife to cover part of the cost of the plants. Lisa Niccolai of the White River Natural Resources Conservation District (WRNRCD) contributed support via the "Trees for Streams" initiative that plants riverside buffers to protect water quality. The Town put in some funds from the Town Lands Management Fund, since the Management Plan for this parcel lists restoring the floodplain as a priority.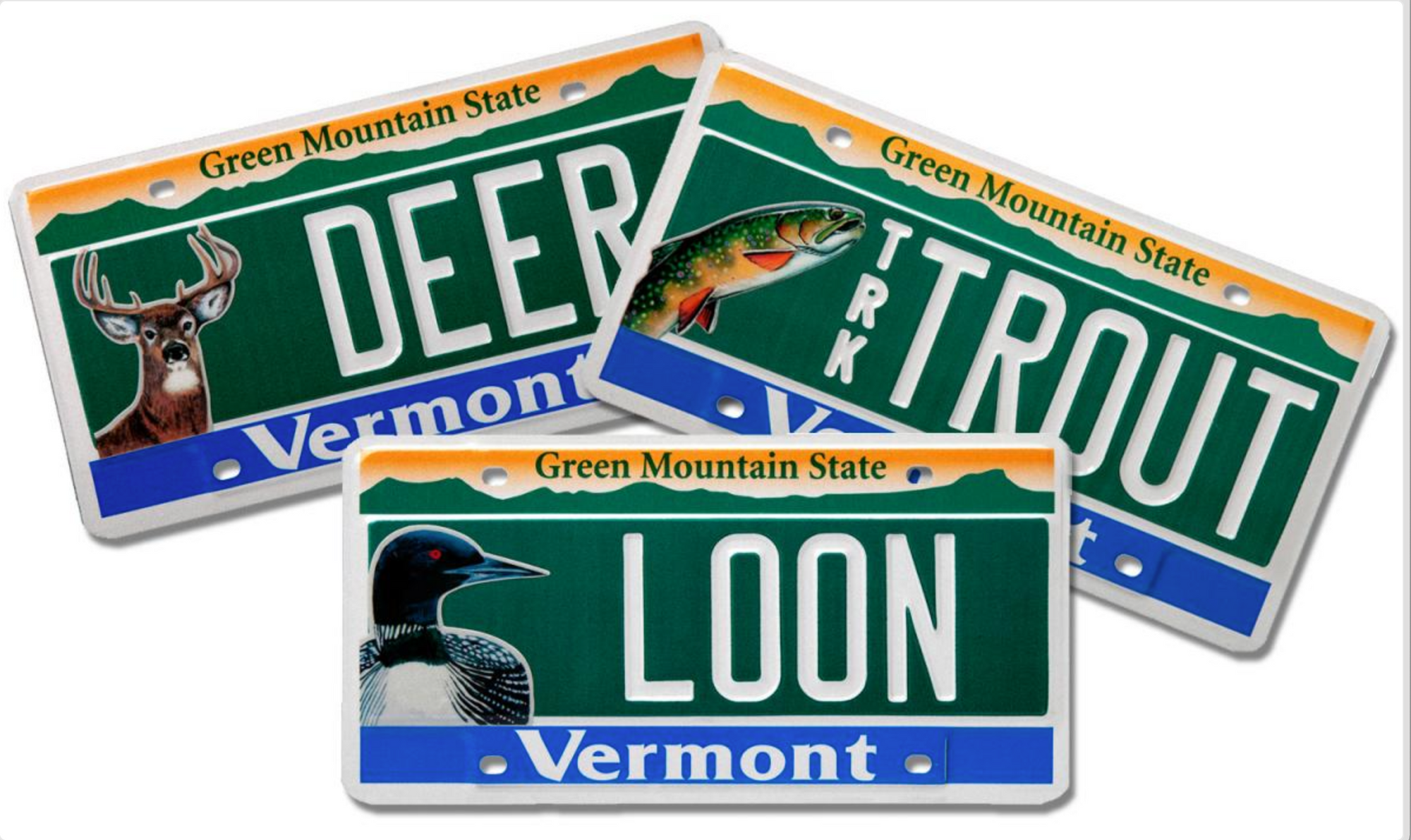 Preparation began last year, when deeply entrenched invasive plants were tackled by a contractor specializing in invasive plant control. About 20.5 of the worst offending acres were treated in two units, one completed in 2020, the other in 2021. Abutting landowners Mark Lansburgh and Allan Bieber did their share by permitting foot access across their land.
This year, much thought and planning went into the plantings and access routes to their locations. Numerous people contributed to these preparations, including abutters Tim and Janet Taylor, and Larry and Travis Godfrey who thoughtfully allowed vehicle access on either side of the river. Ehrhard Frost drew up the list of plant species with input from Kiley Briggs of the Orianne Society for herpetological conservation and from Brett Engstrom, a renowned Vermont botanist. Ehrhard made multiple measurements of the sites that were converted to maps by Upper Valley Land Trust. He also tracked down plant sources in Vermont and coordinated transport and delivery of 419 trees and 398 shrubs. Jim McCracken of the Conservation Commission was the interface between Town Manager Bryan Gazda and the other parties. The planting work was done in October by a crew of five from Redstart Forestry and took about two and a half days — all by hand.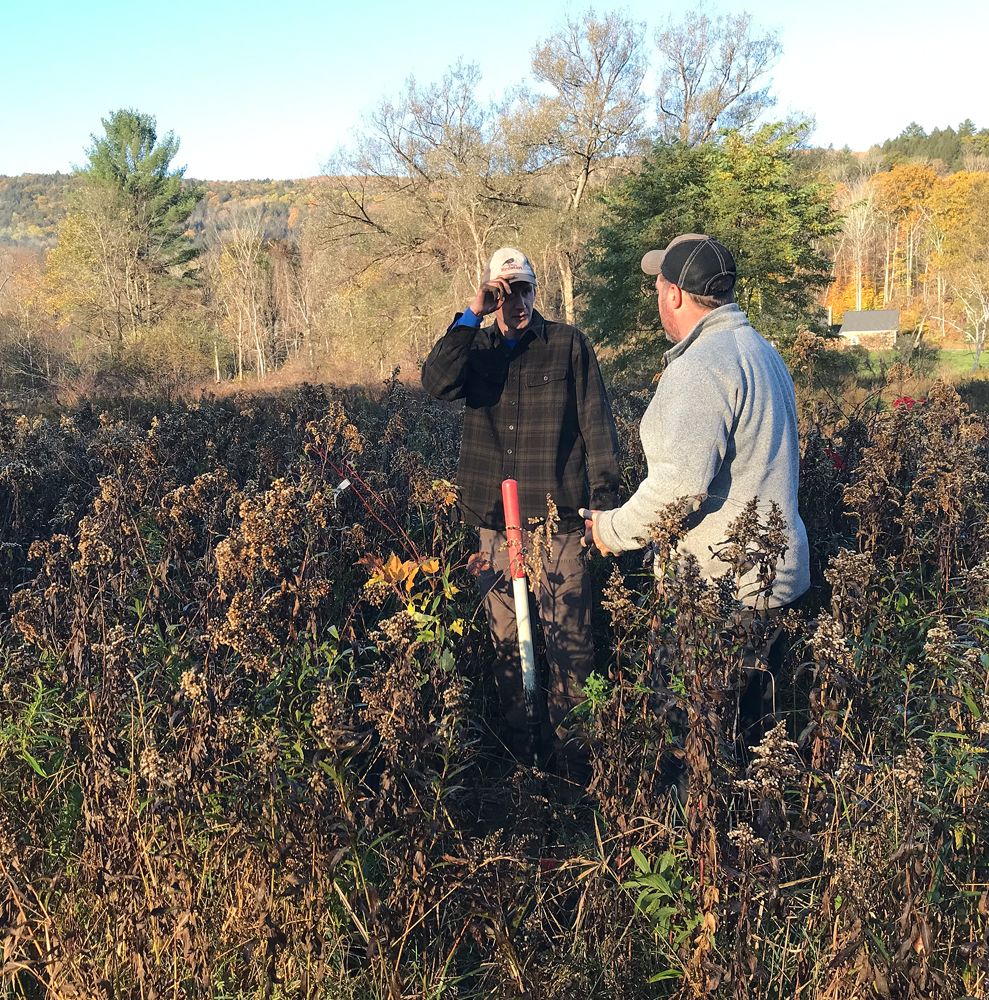 Shortly afterwards, a couple of heavy rains helped soak in the transplants and settle their roots. Even in winter the roots of woody plants can put on some growth so the plantings will be prepared for spring. Silver maple was a prominent species in the mix of trees (title image); 168 were planted, some as tall as five feet. One day in the future, majestic silver maples may once again preside over the rise and fall of floods and cast their summer shade on the river.
Photo Credit: Jim McCracken