You can build back, but not better, through FEMA
"There was not a hydrological study done for that location, and in my experience they will not accept our recommended solution without a recent study."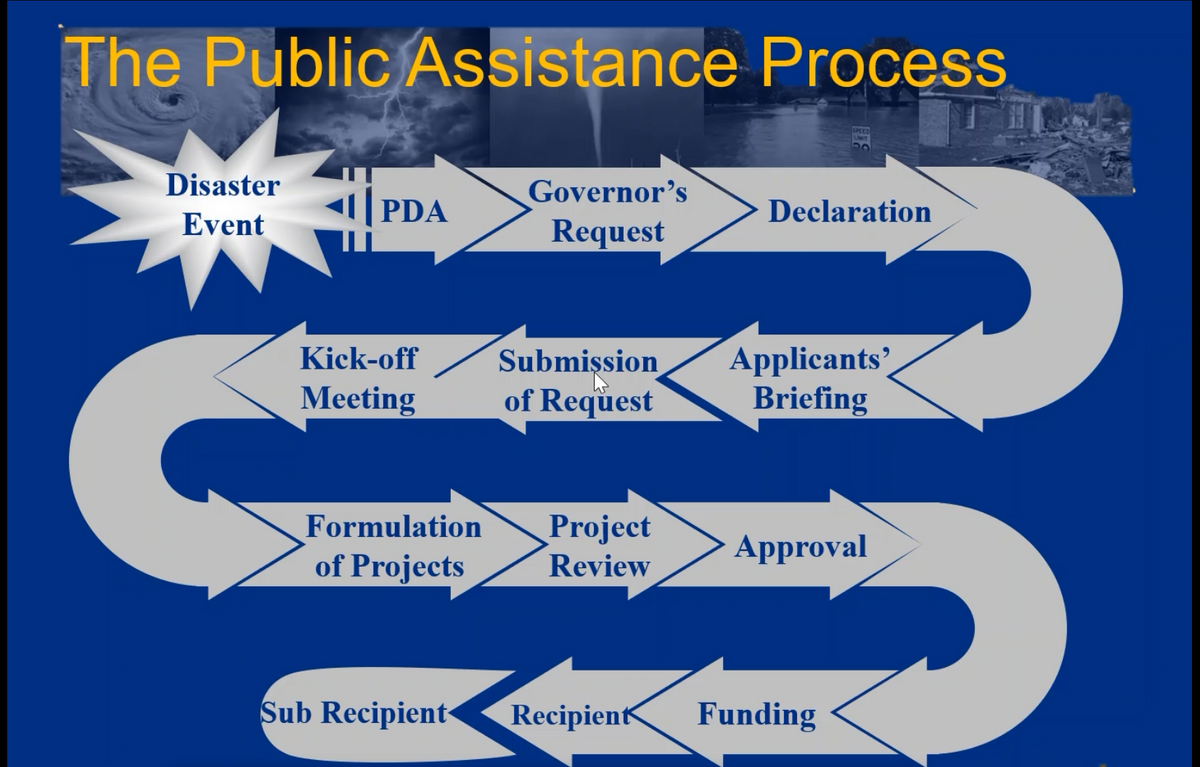 Communities all over Vermont are still grappling with the aftermath of the July 10th storm, as well as other floods before and after that fateful event.
Four days after the storm President Biden declared that a major disaster existed in the State of Vermont. Federal assistance for recovery efforts was ordered. However aid for full recovery was limited to the counties of Chittenden, Lamoille, Rutland, Washington, Windham, and Windsor. Towns in Orange county, including Thetford, were not included, though help with "emergency protective measures" (like sandbagging and temporary road opening) was offered "on a cost sharing basis."
By July 21st the major disaster declaration had been expanded to include Orange and Caledonia counties. Orange county was now eligible for funding for "debris removal [Category A] and permanent recovery work [Categories C-G]" in addition to the aforementioned emergency protective measures [Category B].
The various categories of assistance listed above hint at the protocols that must be navigated to receive funding through the Federal Emergency Management Agency — aka FEMA — that is tasked with responding to disasters and leading recovery efforts.
If a town wishes to apply for the 75% FEMA reimbursement of its disaster repairs, it must be diligent in providing thorough documentation every step of the way. For instance, debris removal under Category A is only eligible if it is in the public right-of-way and is "necessary to eliminate an immediate threat of significant damage to improved property, or to ensure the economic recovery of the affected community." Debris removal must be monitored, and FEMA recommends a second contractor to perform the monitoring.
Category B emergency repairs ("protective measures") are only eligible if they constitute "a quick and temporary opening of the roadway." Sole-source contracting is allowed for emergency repairs only within a very limited time frame immediately after a disaster. Once the road is passable, any permanent repairs must document "proper permits, using properly procured contracts and/or force account labor" (the town's highway department).
"Proper procurement" means that all parts of a repair project must be bid out to a minimum of three qualified contractors, engineering firms, materials sources, etc. "to allow for full and open competition." And all contracted work "must be reasonable and necessary."
The damages and expenses to be considered for reimbursement are entered by FEMA into project spreadsheets. And they are detailed. For instance, with emergency repairs, one must document who did the work, what vehicles were employed, amount of diesel or gas used, and provide proof that the road, culvert, bridge, etc. was properly maintained prior to the disaster.
Reimbursement under FEMA is governed by something called the Stafford Act that generally dictates that roads, bridges, culverts, etc. may be restored only to their pre-existing condition or to "codes, specifications and standards in place at the time of disaster." But what this achieves is setting up the infrastructure for a repeat failure in the next flood. And it runs counter to state recommendations issued after Tropical Storm Irene stressing the importance of replacing culverts and bridges with structures sized to handle "the new normal" of increased rainfall and torrential downpours. In fact, the U.S. EPA found that extreme rainfall in the Northeast U.S. has increased by 70 percent since the 1950s. In spite of this, in the aftermath of Irene, FEMA initially refused to foot Vermont's bill for $750 million in road repairs because the state had incorporated climate-savvy upgrades. In FEMA's view, the state's process for permitting measures like enlarged stream culverts "did not establish any specific engineering design standards or measurable performance criteria." It took several appeals of this decision by the state before funds were eventually released. The last of Vermont's open cases with FEMA that lingered after Irene in 2011 were finally wrapped up about four months before the July 10th floods.
Not that it is completely impossible to be reimbursed for necessary upgrades, it's just that the bar is extremely high and requires strong evidence in the form of an up-to-date engineering analysis or other studies. But it is beyond the budget of most towns, particularly small rural communities, to pay for an engineering study for every bridge, culvert, and embankment that might fail in a flood.
Thetford did apply to receive FEMA assistance for repairs to several roads. In particular, New Boston Road was quite badly damaged due to a blown-out (ie. undersized) culvert. However Town Manager Brian Story reported, "I am not going to pursue FEMA funding for the New Boston Road culvert. It is relatively easy to get FEMA to pay for repairs which restore the prior condition; it is much more difficult to get them to pay for improvements (even if those improvements will prevent future damages). There was not a hydrological study done for that location, and in my experience they will not accept our recommended solution without a recent study."