Delays, detours and … what's behind the concrete barrier?
Town highways are forever a work in progress.
Summer has come to equate with road construction season. After all, it's the time when projects can be done faster with greater efficiently (which generally means cheaper) than at any other time of year. And Thetford seems to be getting more than its usual share of road projects, even though we were spared major road damage from the July 10th floods.
If it appears that our roads are being repaired more frequently than in the past, it is probably true. Surging high-tonnage vehicle traffic is wearing out rural roads designed to last twenty years in as little as seven. Even though a tractor-trailer weighs only twenty times more than a passenger car, a multi-year study by the AASHO (American Association of State Highway Officials) concluded that the amount of road deterioration caused by one pass of a tractor-trailer is equivalent to that from 9,600 passenger cars. To perform the study, trucks of different weights and configurations drove round a circuit till a certain amount of road damage occurred. This was a serious business which incurred 141 crashes and two fatalities. A slew of engineering equations were derived from the hard-won data, the most important being that the damage done to a road surface increases in proportion to the fourth power of the weight of the vehicle. Put simply, passenger cars do almost no damage, while trucks do most of it. It's worth noting that since 1990 there has been a 50% nationwide increase in commercial traffic compared with a 30% nationwide increase in civilian traffic.
In 2023 the town allocated 41% ($1,309,205) of the funds raised by municipal taxes (excluding school tax) to roads and their upkeep. This includes payment on the bond of about $4M for the major repair to Rt 132 in 2021. The consulting engineering company Stantec recommended further rebuilds and road rehabilitation in their 408-page report of 2022.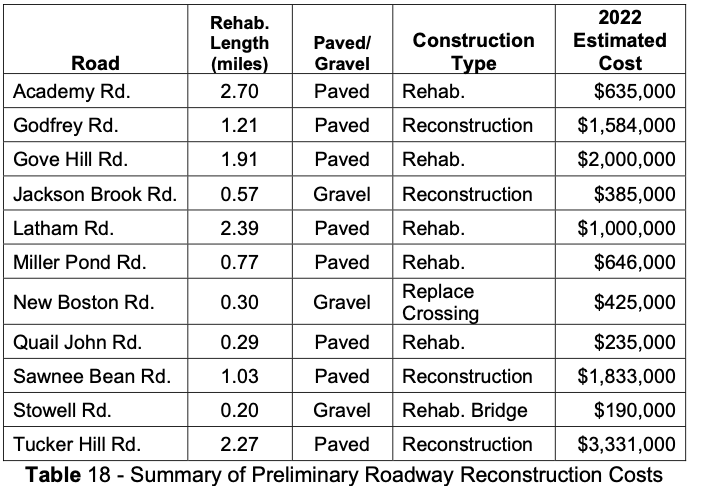 Stantec proposed town spending of upward of $1M a year through 2031 to accomplish all the work. While State road grants are available to help defray some of these costs, such as the grant recently received for Latham Road, the town is not eligible for large sums every year. The state has to spread its funding across many towns who are "in the queue."
So, for now we can't afford another expensive road rebuild like the one needed for Tucker Hill Road. But uneven, cracked, and potholed surfaces are a hazard and accelerate road failure through infiltration of water. The expedient measure is to treat the worst areas by the process of shimming, the application of a special "cold patch" asphalt mix.
Academy Road, Tucker Hill Road, and Sawnee Bean Road all received various degrees of shimming this summer. For Academy Road, the goal is to prolong the life of the road before it deteriorates, a measure that Town Manager Brian Story anticipates will save costs in the long run. On Tucker Hill and Sawnee Bean, it is to restore a safer, more even surface, pending serious reconstruction. With shimming, the roads were usable immediately following the repair.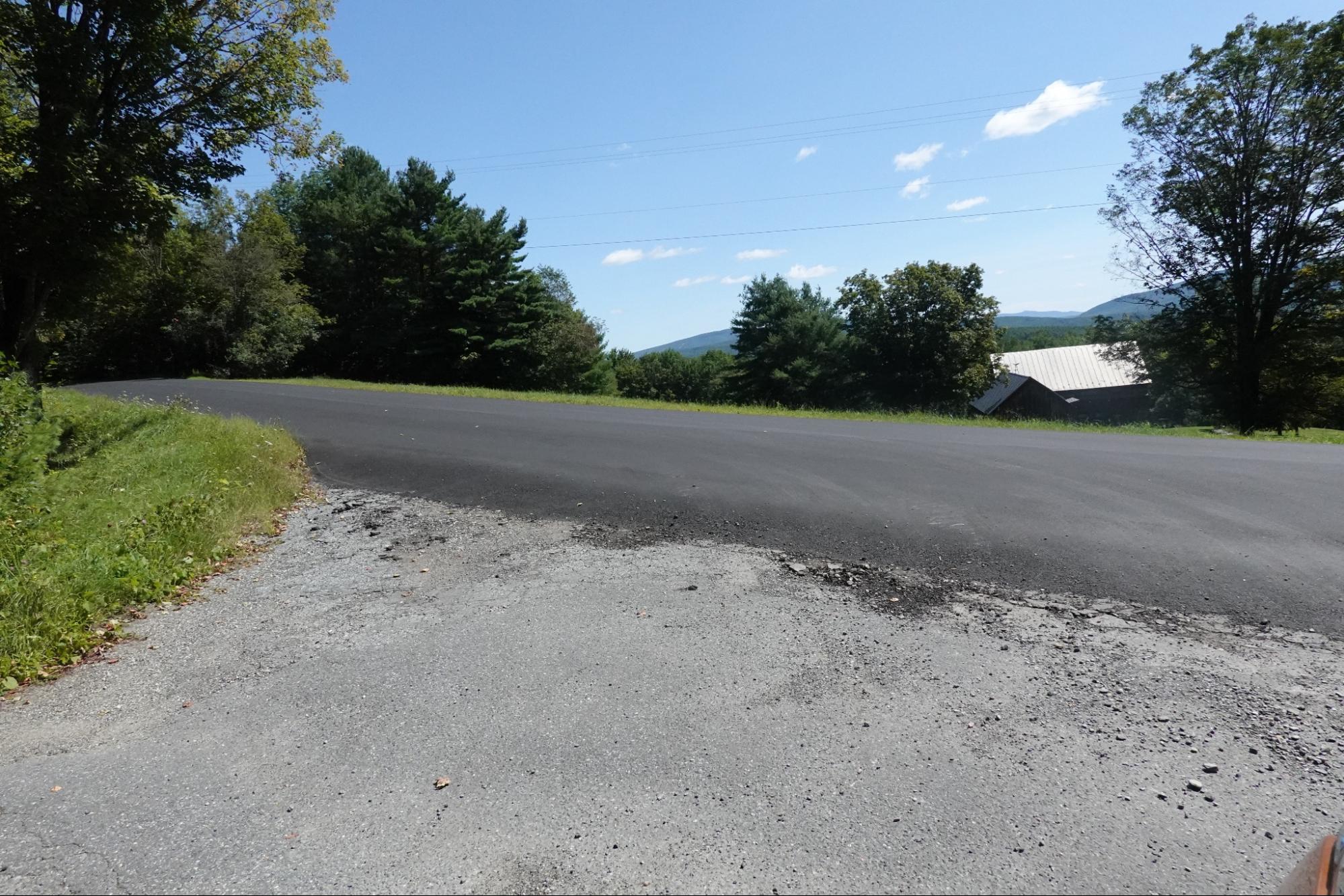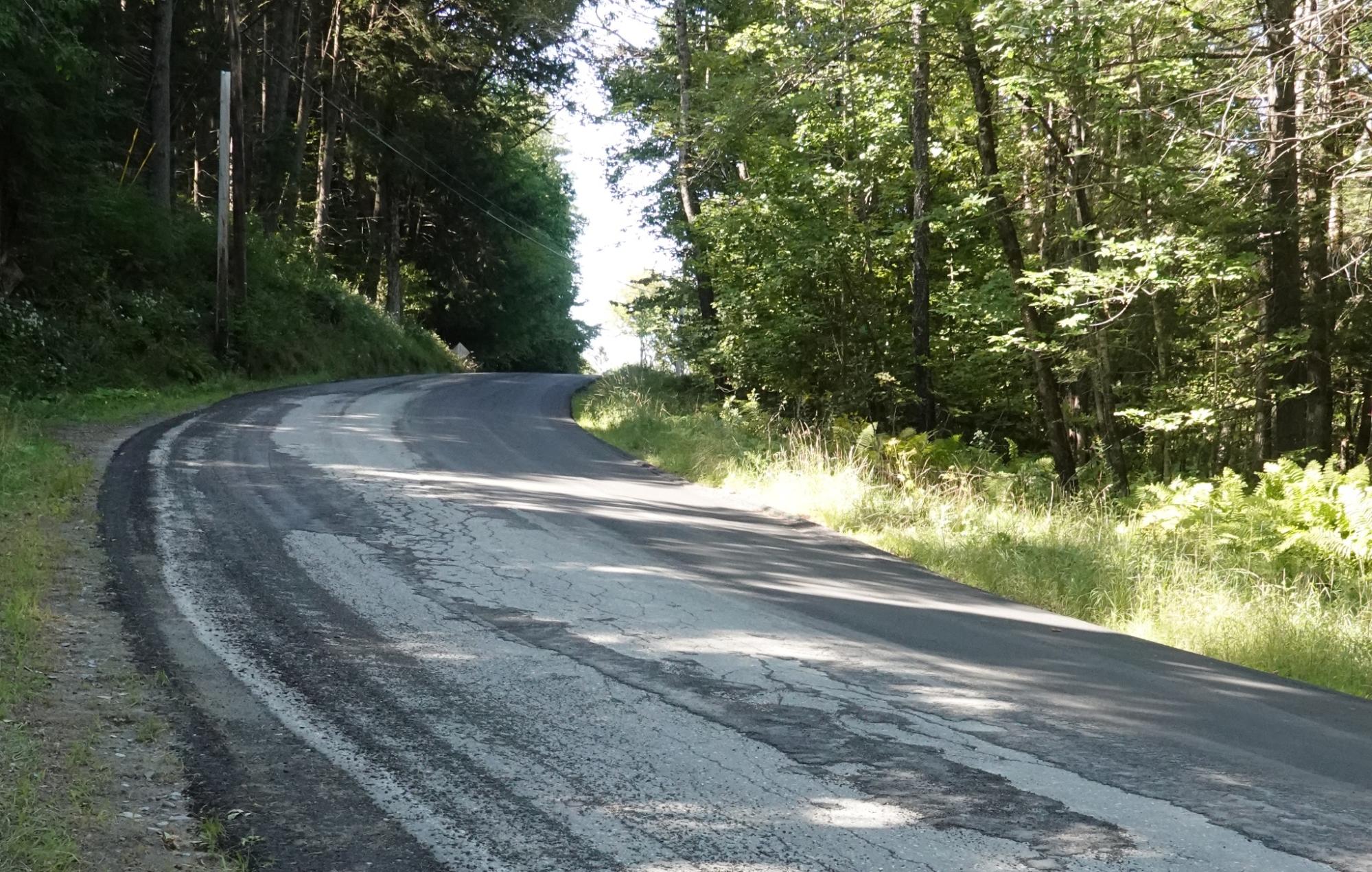 While Thetford did not suffer a lot of flood damage to its paved roads, it was a different tale on Rt 132 in Strafford where a section has been closed for weeks after flooding near Furnace Flat Road. Both lanes had to be excavated and rebuilt. Police Chief Mike Scruggs gave this progress report on Thursday: "They are working on paving and guardrails. They need to grind some of the previous pavement so it can be re-paved due to damage caused while making repairs. It is best to keep the area closed and use the detour so they can work more efficiently. If the weather cooperates, there is hope for the end of next week, and if there are some small tasks to complete after inspection, then it may go into the following week."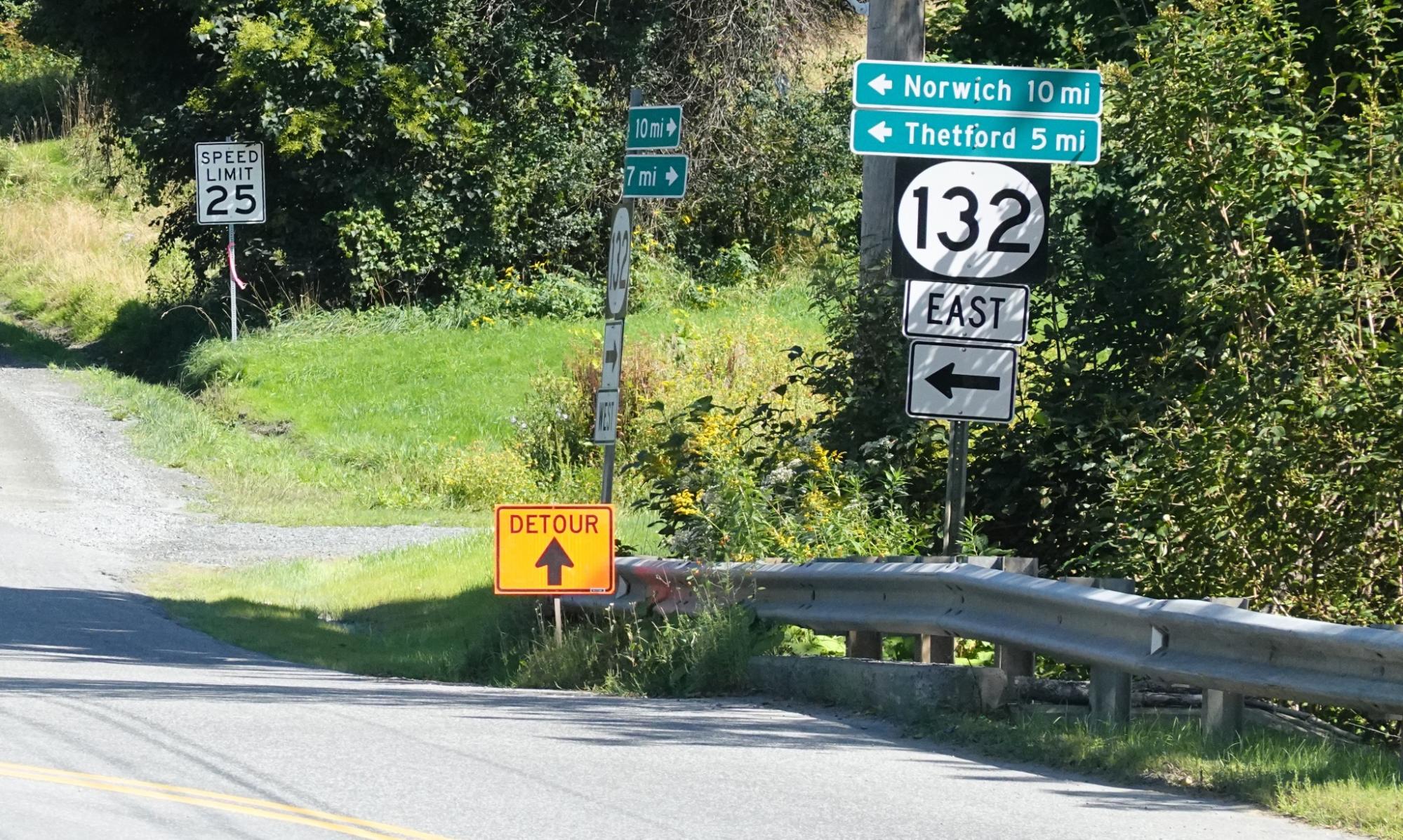 A repair of possibly greater proportions is underway on Rt 113 halfway up Thetford Hill. This is not flood-related and had been scheduled by VTrans earlier in the year. The contract for the work was awarded in May of 2023 to "repair damaged ditches along VT 113" at an estimated cost of $604,850. A temporary traffic light controls the one passable lane; the other has been closed for weeks to accommodate something greater than the average ditch repair. There are several pieces of very large equipment, and in a turnout up the hill sits a long tanker with a hose running down to the construction site.  A concrete barrier obstructs the view from the road of the ongoing work.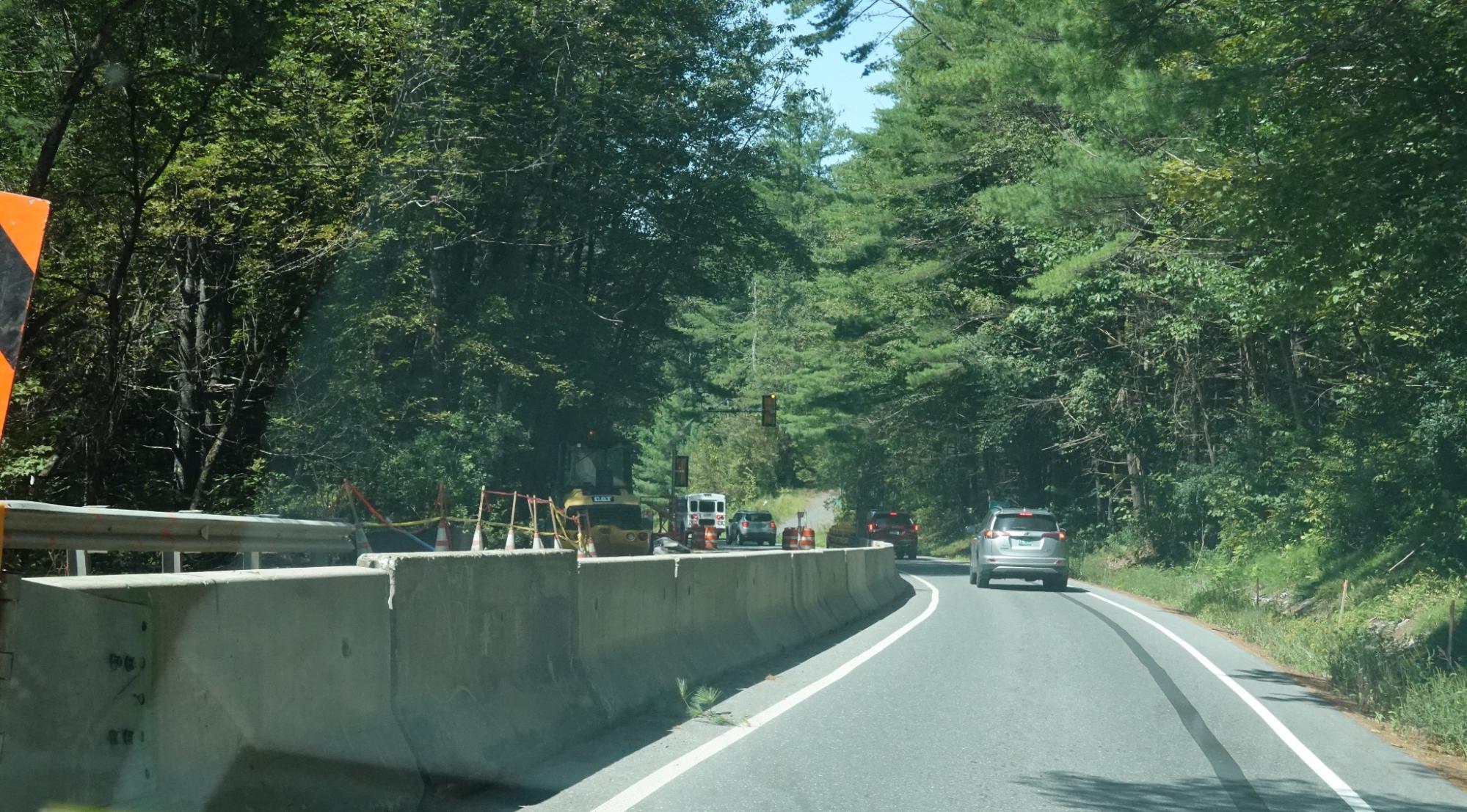 It's not obvious that this section of Rt 113 is perched on the edge of a ravine. While information from VTrans was brief and non-descriptive, it seems that the steep embankment was in danger of failure. A view of the project from the ravine shows the embankment excavated almost to the guard rails and enveloped in a layer of sprayed-on concrete. Presumably there is steel reinforcement embedded in this layer.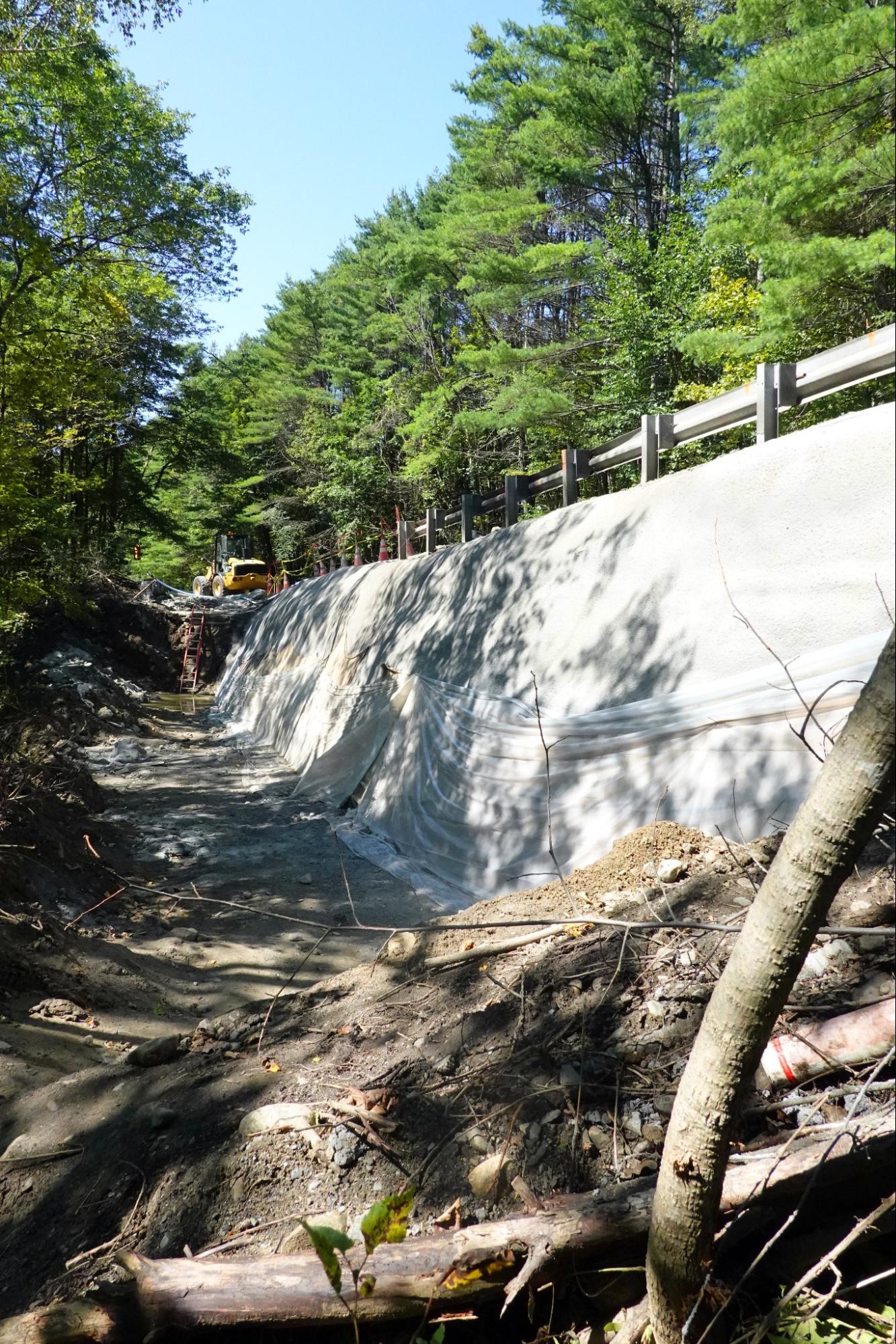 Another proactive VTrans project on Rt 113 will soon take place on the town line between Thetford and West Fairlee. Here a stream flows under Rt 113 through a 4-foot culvert that is dangerously undersized considering the magnitude of recent rainstorms. It will be replaced by a 58-ft long precast concrete structure at an estimated cost of $705,208.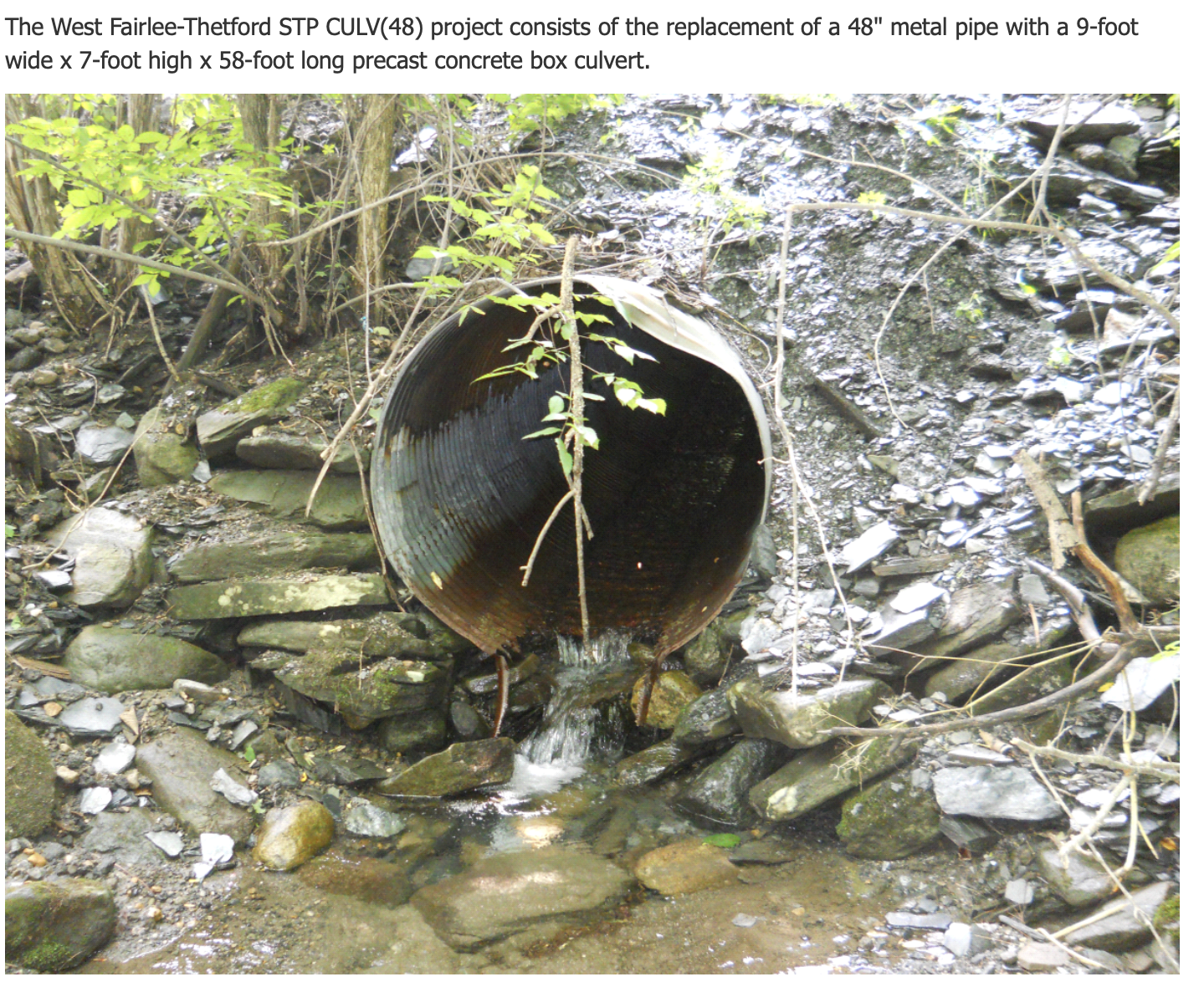 This project has been delayed a couple of times and will now take place sometime in early September. A full day's road closure will be necessary to install the massive structure.
VTrans projects aside, it is the town's objective to catch up, eventually, on deferred maintenance of its paved roads. Meanwhile, gravel roads need to be graded, ditches cleared, roadsides mowed, and equipment repaired and maintained. Town highways are forever a work in progress.