What are those structures on Old Route 132?
Drones are not allowed to be used by the public at Union Village Dam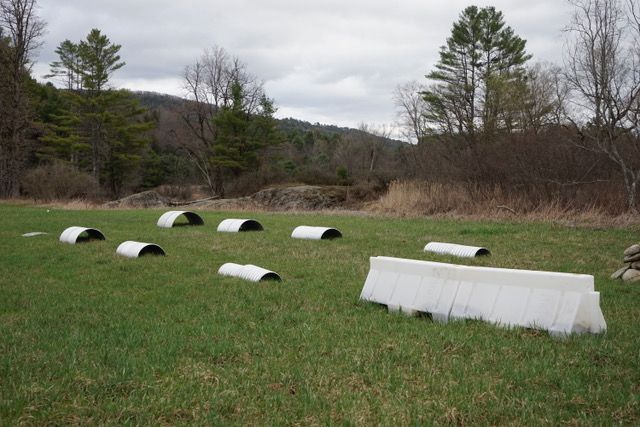 From a Reader: Would love to see an article about the weird metal pieces and marked off squares in the field off Government Road (old Route 132).
If you've used the Union Village Dam Recreation Area (UVD) in the last few years – particularly the entrance on Tucker Hill Road closest to Route 132 – you may have noticed unusual structures in the field just before the metal brdige on your left.
UVD is owned and managed by the U.S. Army Corps of Engineers, and has been ever since construction on the dam began in 1946. (The construction had a huge impact on Thetford, including the extensive use of eminent domain). As an "engineer formation of the United States Army," UVD's 979 acre project area is federal land and, as you might expect, sometimes used by other parts of the federal government, such as CRREL (Cold Regions Research and Engineering Labratory).
CRREL has three locations listed on their website: Fairbanks, Alaska; Hanover; and White River Junction.
CRREL solves interdisciplinary, strategically important problems for the U.S. Army Corps of Engineers, U.S. Army, Department of Defense, and the Nation by advancing and applying science and engineering to complex environments, materials, and processes in all seasons and climates, with unique core competencies related to the Earth's cold regions.
It is no surprise then to find that the mystery structures by a favorite local swimming hole off Tucker Hill Road were put there by CRREL. When asked, Heather Morse of the U.S. Army Corps explained over email that: "CRREL has been using cameras on drones looking at different types of structures, materials and heights of those items to improve accuracies of the cameras especially during the winter when there is snow on the ground."
When CRREL was contacted, the response was simple: we'll see if there's any non-classified information we can share. There's been no response since.
"Just as a reminder, drones are not allowed to be used by the public at Union Village Dam," Morse wrote.