Volunteer program helps build community and save energy
We will build ~125 window inserts for the Thetford Elementary School and ~300 for 46 homes.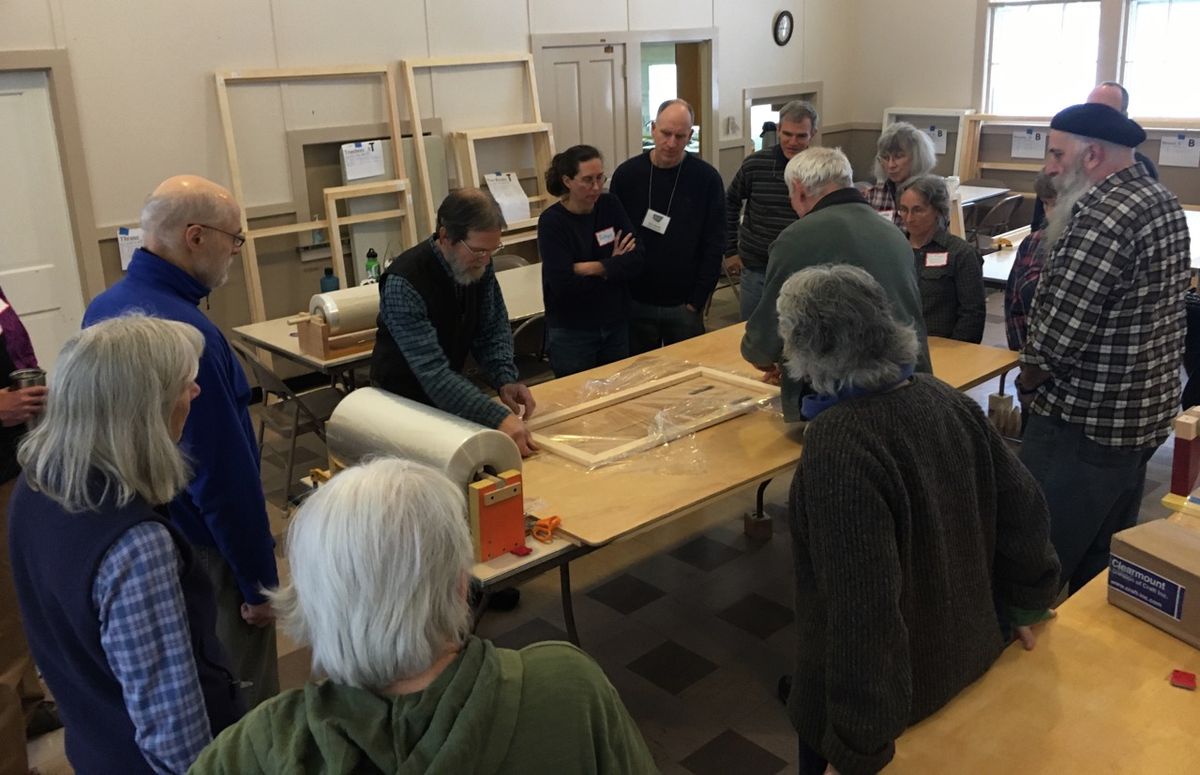 WindowDressers (WD) is a nonprofit organization formed in Rockland, ME in 2010. Their mission is to "bring community volunteers of all economic and social situations together to improve the warmth and comfort of interior spaces, lower heating costs, and reduce carbon dioxide pollution by producing low-cost insulating window inserts that function as custom, interior-mounted storm windows."
Since its founding in 2010, WD has installed 41,566 inserts in homes throughout Maine. In 2018, community organizers in Glover brought the program to Vermont.  In 2019 the Thetford and Strafford energy committees teamed up with WD to bring the program to our towns. That year we recruited more than 125 volunteers to build 249 WD inserts that went into 30 homes in our two towns. Most of the homes receiving inserts income qualified for discount pricing, paid for by grants and donations from Mascoma Bank, New England Grassroots Environment Fund and residents throughout our towns.
WD halted operations in 2020 due to Covid-19, but the Thetford Energy Committee is making up for lost time this year by taking on two WD projects. From August 5-12, we will build about 125 inserts for the Thetford Elementary School (TES) and from September 8-16 we will once again team up with the Strafford Energy Ccommittee to build about 300 inserts that will go into about 46 homes – about half of which qualify for discounts.
The inserts are made of a 1"x2" pine frame, wrapped in plastic that is heat shrunk on both sides to make a clear double-sided insert. Then, foam weather stripping is applied to the outside edges of the insert to provide a compression fit on the inside of the window jambs and sill. The insert's two plastic layers create two air spaces between the window and the living space, greatly increasing the insulating value of the window.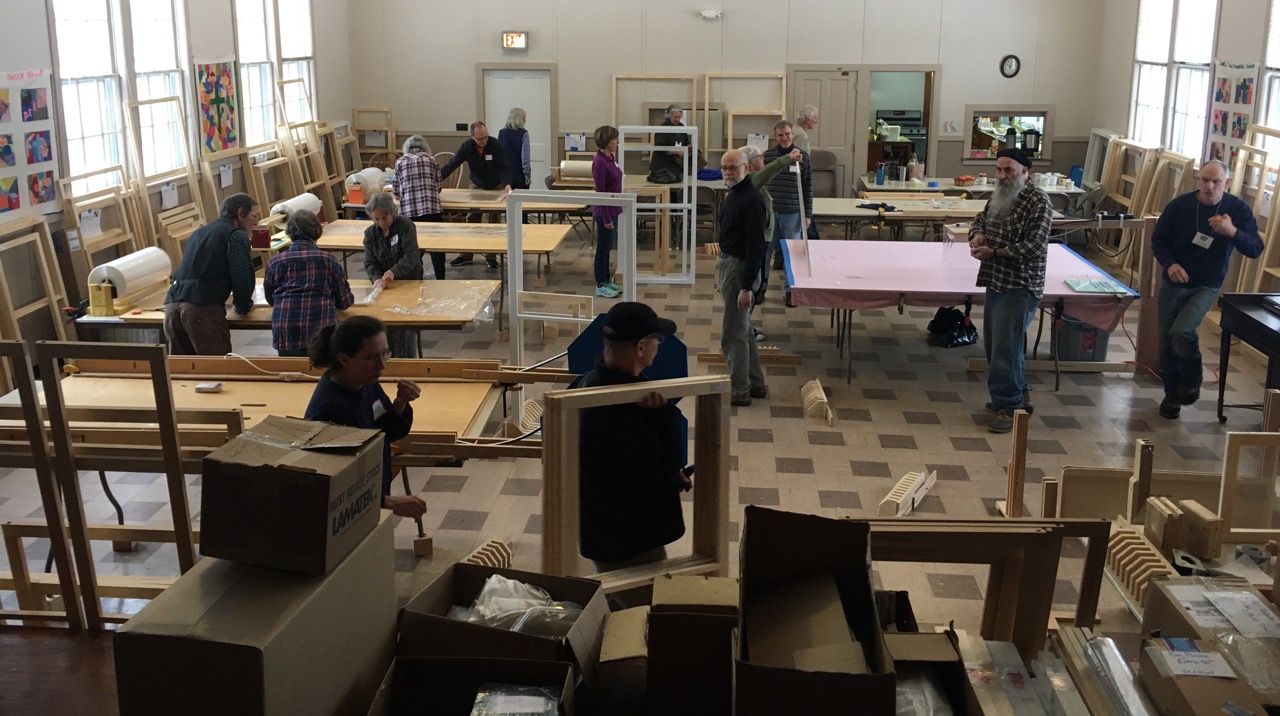 This huge volunteer effort will reduce energy use, increase home comfort and save money for TES and homeowners for years to come, as well as build a strong sense of community pride for all who participate. Volunteers have already measured the TES windows and are beginning to measure windows for residents who signed up to receive inserts this year. The window measurements are sent to WD in Maine, where the 1x2 frame pieces are cut to length, holes are drilled for fastening the frame together, and labeled to identify which inserts go to which resident and the homeowner knows which insert goes in which window. The frame materials are then shipped to each participating town, along with the plastic film, weather stripping, and numerous jigs WD has developed to make the insert assembly go smoothly.
Residents in all the homes receiving inserts participate in the assembly workshops, along with other community volunteers, which helps build community and keep the cost of the inserts affordable. The Thetford and Strafford Energy Committees are recruiting community volunteers to help with the assembly workshops. All workshops take place at the North Thetford church. There are 2 workshop sessions each day: one from 9am to noon and the other from 1-4pm, with a community lunch from noon to 1pm that all volunteers are invited to join.  Volunteers for the August 5-12 TES workshops will be asked to bring their own lunch, with organizers providing drinks and snacks. Lunch will be provided to all volunteers for the September 8-16 community workshops.
Workshop organizers train and oversee volunteers through several different assembly stages. The WD program has developed innovative jigs that make each assembly step easy for folks of all ages and abilities to participate and no experience or special skills are needed. There are a lot of volunteer slots to fill for these workshops. If you are interested in helping out, please go to the following sites to sign up to volunteer for either (or both) of the August TES or September community workshops:
For TES:   https://signup.com/go/gRxVpxy
For Community:  https://signup.com/go/cODVXJt
If you have questions about this program or signing up to volunteer, contact:
-       Mike Kiess, MichaelKiessVT@gmail.com, 802-299-5864, or
-       Bob Walker, bobwalkervt@gmail.com, 802-785-4126