The glue that holds Thetford together
Tracy Borst has earned respect, admiration, and appreciation in all aspects of her career with the town, education, and her work in professional associations.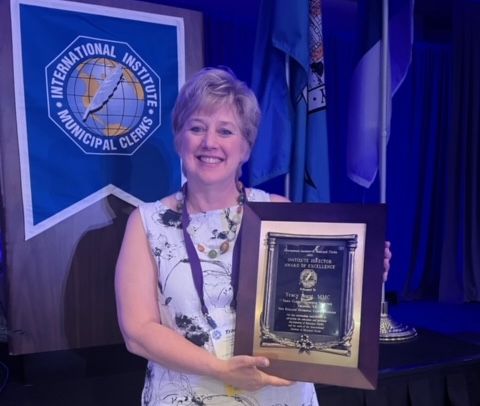 Congratulations are in order for Tracy Borst, Thetford's Town Clerk!
Tracy has been awarded the 2023 International Institute of Municipal Clerks (IIMC) Institute Directors Award of Excellence.
The IIMC website notes that it is the "premier organization for Municipal Clerks," was formed in 1947, and has more than "15,000 members who represent towns, small municipalities and large urban jurisdictions of more than several million people." The IIMC, located in California, has eleven regions. The United States makes up the first nine regions, Canada the tenth region, and the eleventh region is comprised of Australia, Belgium, Bulgaria, Israel, Nepal, Netherlands, New Zealand, South Africa, and the United Kingdom (Bermuda, England, Scotland and Wales). Kathy Montejo, Region 1 Director, notes this is a prestigious award and this is the first time it "has been bestowed upon an Institute Director from Region 1."
The award was given to Tracy for her work as a Director of the New England Municipal Clerks' Institute and Academy (NEMCI&A), one of 48 such programs worldwide. NEMCI&A is an intensive program of continuing professional education. The purpose is to assist Clerks in developing and maintaining the high level of administrative expertise needed for the successful operation of increasingly complex municipal governments. Over 500 cities and towns have sent Clerks to NEMCI&A, which is run by a Board made up of two Clerks from each New England State. Tracy has been on this board since 2015 as Curriculum Chair and then Chair of the Board.
Tracy has many accomplishments as an Institute Director. In 2020 Tracy led the process of introducing both OnDemand and Live Webinars for New England clerks and creating online virtual programming for clerks enrolled in the Institute in the summer of 2020. In August of 2020 to December 2020, she led the process of extending OnDemand and LIVE webinars for clerks in the USA and Canada. In 2022, Tracy reinstituted a dynamic week of in-person learning and networking. The New England Municipal Clerks' Institute & Academy didn't miss a beat during COVID.
Tracy is also the statewide leader for municipal clerks in Vermont. She has been a peer leader, mentored clerks, and served as presenter for state programs.
Tracy was nominated for the IIMC award by three people.
Cheryl Estrella, Town Clerk, Freetown, Massachusetts, said, "She exemplifies what a true public servant is — a leader, a team mate ready to assist at any time and in any way possible, tirelessly."
John L. Myers, NEMCI&A Chair, Town Clerk, Buxton, Maine said, "Tracy has undeniably made a significant contribution to the Institute as she demonstrates leadership qualities including awareness, fairness, know-how, support and hard work."
Jim Ognibene, NEMCI&A faculty, relates, "Most notable are the skill of Entrepreneurial Thinking, Agility and Managing Ambiguity. … She knew when to lead and when to follow."
Tracy also received two letters of endorsement.
Dorothy Powers, Town Clerk, Westwood, Massachusetts, president of the New England Association of City and Town Clerks (NEACTC), said, "She has made great contributions as a member of NEACTC Board during my tenure."
Susan Clements-Dellaire, President of the Maine Town and Clerks Association said, "Tracy's leadership skills and the work she had done as Chair of the NEMCI&A board had earned her the utmost, well deserved respect of her peers throughout New England."
Tracy also received twelve letters of support from NEMCI&A students, board members, and faculty, as well as state association presidents.
Tracy was elected Thetford Town Clerk in March of 2003. In her official capacity she is responsible for recording and preserving land records and vital records and helping the public access these records. She maintains minutes of town and committee meetings; oversees the voter checklist, absentee ballots, and elections; and she provides DMV registrations and licenses of all kinds.
She has many professional certifications including Master Municipal Clerk, IIMC, 2020; Certified Municipal Clerk, IIMC 2018; and Vermont Certified Municipal Clerk Summa Cum Laude in 2019, one of only two Clerks in Vermont to achieve this advanced certification
While performing her duties as town clerk, Tracy also was Thetford Academy Parent Association President from May 2013 to May 2017.  She was a troop leader and financial manager of the Girls Scouts of the Green and White Mountains, and, last but not least, Robotics Team Manager for Thetford Academy from October 2010 to June 2014.
Tracy was feted at a potluck with a small gathering of friends, family, and coworkers where she was presented with a proclamation of May 24, 2023, as Tracy Borst Appreciation Day for the honor she has brought to herself and the town.
Tracy has earned respect, admiration, and appreciation in all aspects of her career with the town, education, and her work in professional associations. Thetford is one very lucky town!