June 11th: Celebrate community with the renaissance of the Rice's Mills Schoolhouse
The pandemic starkly highlighted that peoples' overall well-being is bolstered by social and community connections.

On May 9th, 1961, a group of residents — the newly-formed Rice's Mills Community Association (RMCA) — voted to send the Thetford School Board a bid of $535 to purchase a small, unused red schoolhouse. The building in question stands just north of the intersection of Tucker Hill Road with Route 132. That schoolhouse became the much-loved focus of ongoing community work and engagement.
Most people don't think of Rice's Mills as a village center. Though the West Branch of the Ompompanoosuc River flows close by, nothing indicates there was once industry and a thriving population here, whereas in other villages, like Post Mills, the remnants of historic manufacturing and businesses can still be found.
A booklet by self-described "old-timer" Louise Potter, printed in 1971, fondly chronicles what is known about Rice's Mills. It goes back to the early settlement of this area. Even in 1773, grain mills existed on the river. Furthermore, to guarantee uninterrupted water power, the river had been dammed to make a reservoir or mill pond. Between 1783 and 1839 there was a chain of property transfers, and the mills came into the ownership of Samuel Rice, for whom the area is named.
There was other industry, including a carding mill that prepared wool for spinning and a fulling mill where wool cloth was cleaned of lanolin and dirt and shrunk to give a tight weave. These mills would have coincided with the "merino sheep craze" that swept Vermont between 1810 and 1840, causing 80% deforestation and the extensive building of stone walls to corral 1.7 million sheep. To support the needs of the local population, there was also a shingle-manufacturing shop, a saw mill, a blacksmith, a store, and, in later years, a tavern.
The great flood of 1869 (possibly exacerbated by deforestation) destroyed much of this industry, including Samuel Rice's mills. Even before then, subsistence farmers had been leaving Vermont for the deep, rock-free soils of the midwest, and young people were moving to cities for better-paid work offered by big industrial mills. However, in the 1930s, when Louise Potter arrived in Rice's Mills, there were still two mills in operation. One was a saw mill run by Myron Smith. By that time the Vermont Copper Company had taken all the water rights on the west branch of the Ompompanoosuc River, so this mill was powered mechanically. There was a small bowling pin factory at the junction of today's Rt 132 and Tucker Hill Road that burned in 1934.
The fortunes of the school house mirrored the rise and decline of Rice's Mills Village. The school is first mentioned in 1839, but obviously a school existed before then. At the first recorded Thetford Town meeting of 1784, there was concern about the need for schools, and by 1808, there were no fewer than fourteen school districts in Thetford. In that year, the town had 766 children between the ages of four and eighteen, in contrast to the 357 enrolled in school in 1969. In 1808, there were 92 children in the Rice's Mills school district alone, 99 in 1812, and 103 in 1813. However, by 1887 that number had dropped to 20. In 1932, following the closure of nearby Judd school, it increased to 28, but by 1943 Rice's Mills School had 13 pupils.
Of the physical school house building, the county superintendent complained to the town in 1900 that it  "… is not a place fit for cattle. … It is cold, unhomelike and barren of comforts, with no blackboards worthy of the name." It took the town until 1930 to act on that report and try to "standardize" the old building. But it collapsed during an attempt to move it, forcing the town to build a new schoolhouse. The new school included an acre of land for a playground, a large wood-burning stove, and chemical toilets.
When electricity came to Thetford in 1941, parents held fundraising events so the school could have lights. However, water for the school's use still came in a pail carried from the spring across the road, a chore given to one of the older boys.
In 1958 Thetford consolidated its elementary schools, and the Rice's Mills school closed. The building sat empty until it was put up for sale and purchased by the RMCA that incorporated as a non-profit in 1961. As the Valley News put it, there was an incentive. Families in the Rice's Mills District knew that if the building were sold to a private owner "it might mean the termination of Rice's Mills as a community name." The former school became the Rice's Mills Community Center (RMCC) in 1962.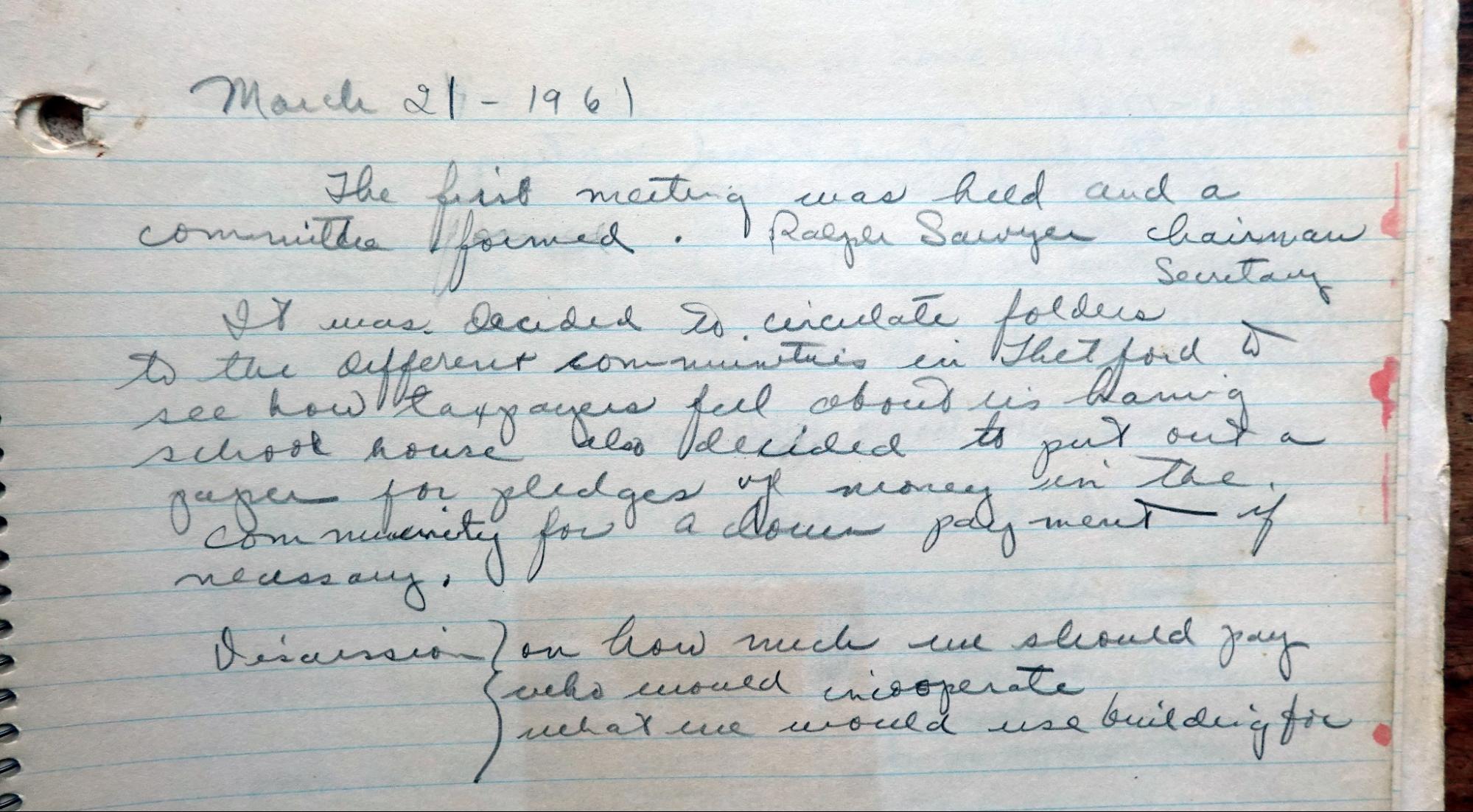 Municipal records demonstrate the town's support for RMCC. The property taxes were "stabilized" at a nominal level in 1980 pursuant to a petitioned article at Town Meeting. In 2001 the Thetford listers recommended to the state that the building be removed from the Education Tax grand list, provided the RMCA could demonstrate its non-profit status, unconditional public use of the property, and "a direct and immediate benefit" to the entire public.
The acquisition of the building spurred a lively period with the original RMCA members. Activities included a children's Christmas party and a sugar-on-snow Sunday dinner. There was even a presentation on establishing a town zoning ordinance. However, by the 1980s the stamina of this first group of residents had petered out, and attendance at annual meetings was low. Community interest revived again with the addition of a community greenhouse by Dan Ingold/Vermont Rural Energy Center who used the building for a while. A new wave of residents organized events like dances, live music, slide shows, and workshops. Monthly potluck dinners where neighbors refresh connections with neighbors are popular and enduring.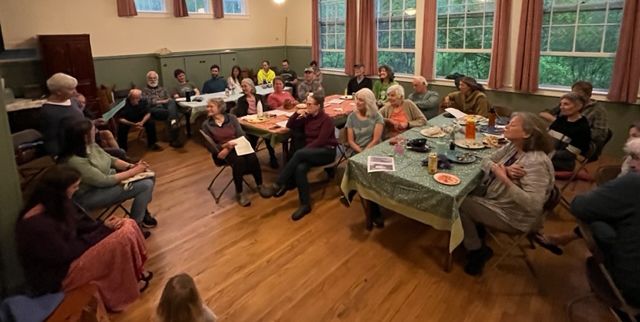 Buildings do not last forever, and the RMCC has required its share of repairs, including shoring up and re-sheathing the roof, exterior rot restoration, insulation, storm windows, and a propane heater. Volunteers have taken on the lion's share of this work. Most recently, the entire interior was professionally cleaned and painted.
The pandemic starkly highlighted that peoples' overall well-being is bolstered by social and community connections. Places to gather and hold events at little cost, like churches and repurposed school houses, are a vital link in the social fabric of our rural towns.
One such small gathering place, the Rice's Mills Community Center, will be celebrating its redecoration and decades-long renaissance with an Open House on Sunday, June 11th, from 3:30 until 6:00 pm. Come and enjoy appetizers and music, and chip in with ideas on how this building can go on providing a "direct and immediate benefit" to us all.
Photo credit: Bob Walker