Event: Here comes Riverfolk Festival 2023
While there is a superabundance of music on the internet, the Riverfolk team believe there is a place, a desire even, for people getting together to enjoy live music events.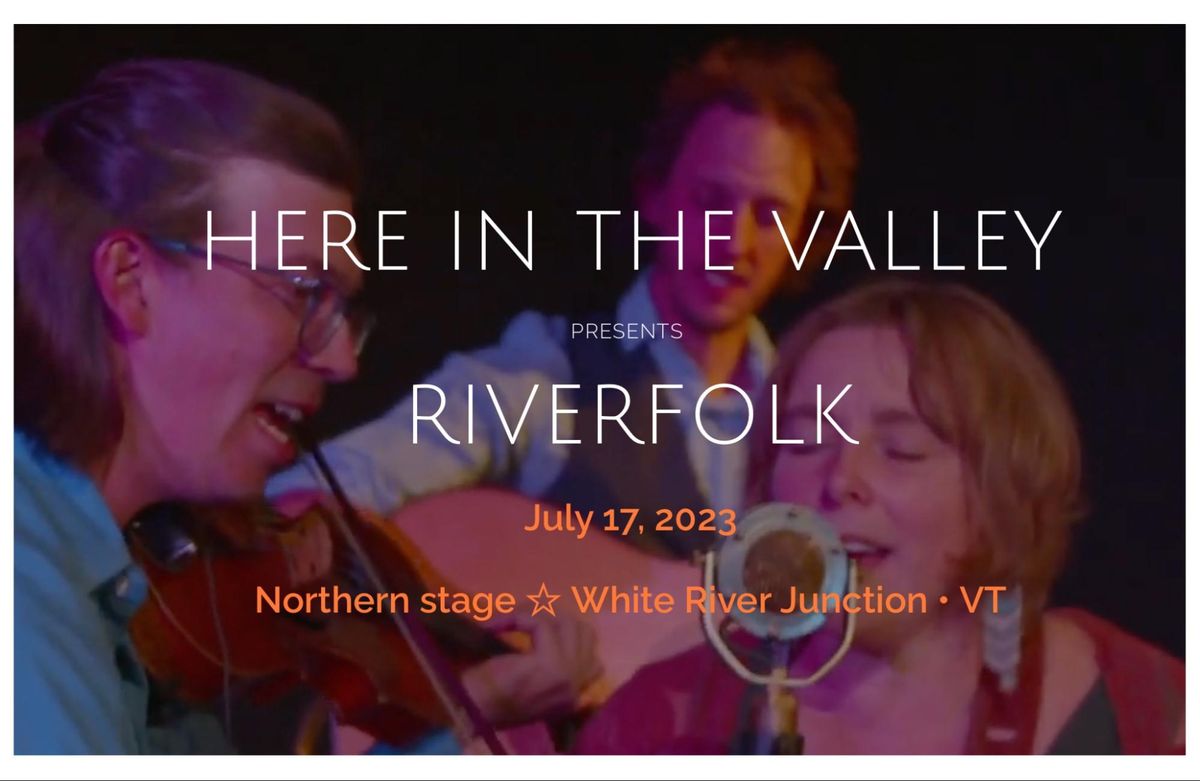 A former US Coastguard officer and an internationally touring fiddle and bass player from Seattle seem an unlikely team. But when Thetford resident Chris Balliau and "fiddle ninja" Jakob Breitbach got together, creative chemistry began to flow. It spawned the Riverfolk music festival in 2022 and is still gathering momentum.
While he's a musician at heart, Chris led a life of discipline and operational responsibility in his 22 coastguard years. His duties included search and rescue of downed aircraft, aiding and rescuing vessels caught in storms, intercepting narcotics traffic, and enforcing fishing regulations. Not to mention training coast guard cadets and serving for two years as a navigator with the US Navy. For most of this period, Chris had to abandon his guitar altogether. He started playing seriously again in 2016. One of his projects was the Gypsy Jazz Trio, inspired by the music of Django Reinhardt, the enormously influential jazz guitarist of Romani-Belgian descent whose name is intimately bound to the style known as gypsy jazz or hot club jazz.
It was one of those Gypsy Jazz Trio gigs that led to his introduction to Jakob Breitbach, who had been invited to play bass that night. As they say, the rest is history. Jakob, an experienced performer in several genres, had moved to the Upper Valley from Seattle with its thriving music scene. Was something akin to that possible in his new, semi-rural home? He shared his vision of creating an incubator and network for music in the Upper Valley that would nurture social engagement through the shared experience of live performance and art, and Chris and Jakob became collaborators.
Singer-songwriter Jes Raymond (Jakob's partner) and Tommy Crawford are also part of the team. In an astonishing and hectic two months during the tail end of the COVID-19 pandemic they pulled together the Riverfolk 2022 festival. Through Tommy's association with Northern Stage in White River Junction they were able, at short notice, to reserve the outdoor theater — on a Monday. At first blush the day seemed inauspicious, although musicians were easy to book as there are generally no performances that day. And, as it turned out, there was also an audience that exceeded their "wildest expectations."
The Riverfolk festival will fly again this year on July 17th — a Monday. Full details and a listing of all the artists may be found at https://www.hereinthevalley.org/riverfolk.
While Chris and Jakob initially dreamed of scaling it up to a grand all-weekend affair, they soon realized the need to get proficient at reproducing the model they already had, down to the Monday and the outdoor stage. As Chris says, they need "two or three repeats at the same level" before expanding their horizons. Interestingly, there are benefits to the Monday — residents are not busy compared to weekends, musicians are not booked, and because bars and restaurants are closed on Mondays, their workers have a chance to see the show.
It came naturally to Chris's operational skills to keep a log book and make spreadsheets throughout the development of Riverfolk 2022. This wealth of documentation proved invaluable to the planning and lead-up to the festival's return in 2023. This time negotiations with Northern Stage began in January-February and secured an extra day before the show for setting up the stage, which will "piggy-back" off Northern Stage's set for the production "Sense and Sensibility." As Jakob acknowledges, "Chris is the glue that holds the show together" as well as "the lubrication that keeps the train rolling down its tracks." His adept management frees up the rest of the team to focus on their strengths. On the day of the festival it will be up to Chris to handle "any changes or fixes on the fly."
Jakob is extremely well-networked with New England musicians through the music hub, Here in the Valley, his brainchild. He took on his role as the "talent buyer" for an all-new slate of performers back in November. He's also co-hosting the festival and coordinating the house band that provides continuity while different musical acts come and go. And of course, as fiddle ninja and bass player, he will be an active performer with Jes Raymond in the duo BeeCharmer.
Jes is in charge of visuals, including art, graphic design, and publicity. She put her songwriting talents to use and was awarded grants from both VT Council of the Arts and the National Endowment for the Arts to connect dozens of VT singers via the internet to perform as a choir during the pandemic. She followed up by making individual videos and created a production that will be featured and can be enjoyed online.
Tommy Crawford will be the co-host with Jakob, teaming up "like Jerry Lewis and Dean Martin." Tommy was also responsible for attracting community business sponsors, including White River Subaru, Upper Valley Honda, Hanover Strings, and Fresh Air Sensor, allowing general admission to be kept at $25 a ticket.
He is an actor, musician, lyricist, and composer with Northern Stage and appeared in the recent production Railway Children. His numerous roles in venues locally and nationally include playing Paul McCartney in "Only Yesterday" and as composer and lyricist for the highly acclaimed Seawife and The Lobbyists.
One addition to the previous year's format is programming both an afternoon (5pm) and evening (8pm) performance. The driving impetus is to provide all-inclusive live entertainment that is accessible to everyone, including families with kids of all ages (12 and under are free). In line with that notion, there will be "flexible seating arrangements to allow sit-down, picnicking, and come-and-go" and on-site drinks and food from Wicked Awesome BBQ, with a meatless option.
While there is a superabundance of music on the internet, the Riverfolk team believe there is a place, a desire even, for people getting together to enjoy live music events. And while the Hopkins Center and Lebanon Opera House provide concerts, local musicians are seldom, if ever, on stage. Here in the Valley uses video to document and promote local musicians in collaboration with Junction Arts Media, with the hope that it will encourage the public to seek a live, in-person experience with these artists. Riverfolk festival aspires to offer just that in a production of Americana catering to all comers in a live community setting. And a well-run production at that, thanks to coastguard-quality operational management.