Bradford's Community Visit process, 1999 and now
With many of the goals set in 1999 accomplished, 150 people gathered to keep the energy going.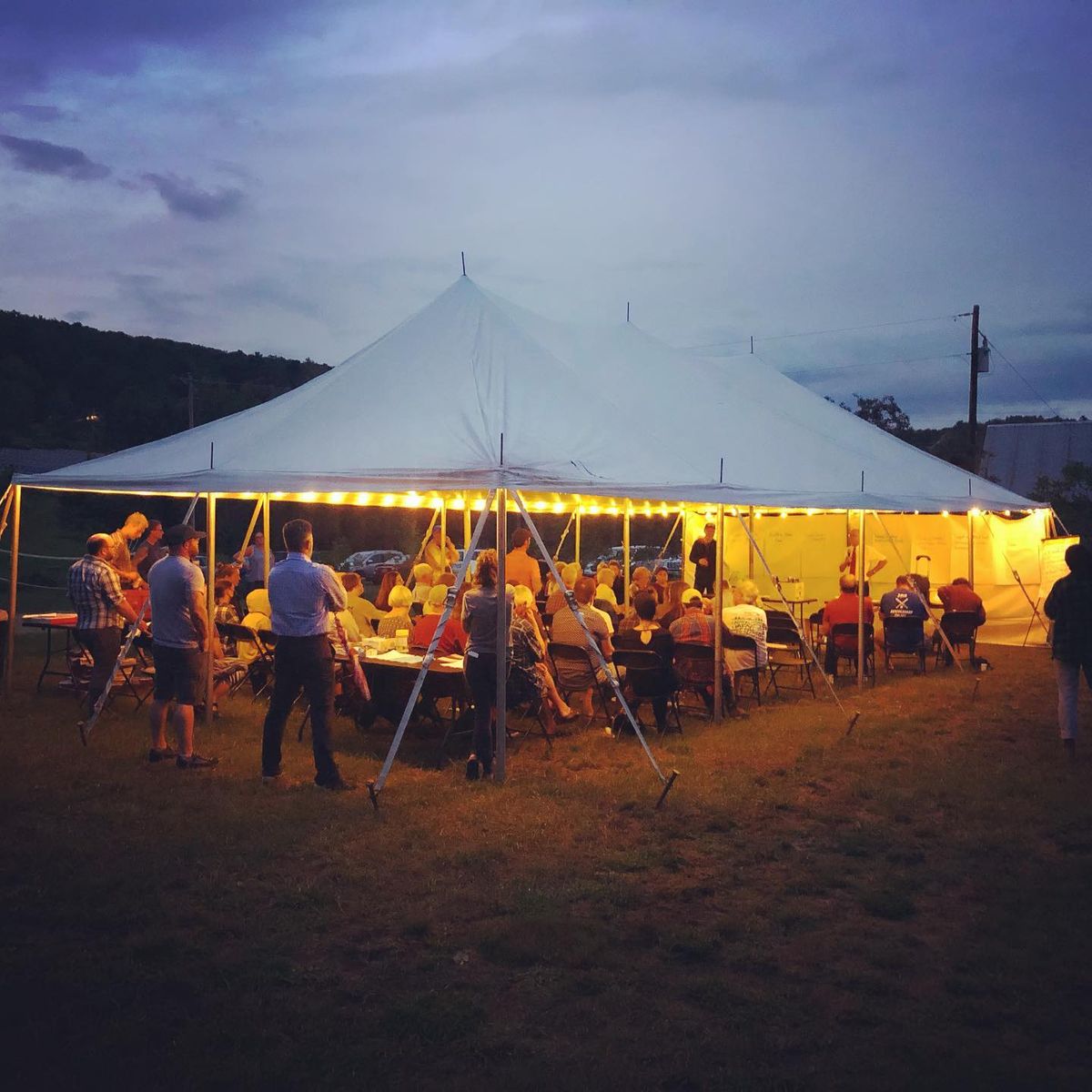 Each year, the Vermont Council on Rural Development (VCRD) brings its Community Visit Process to four or more towns throughout the state. The program facilitates town-wide gatherings aimed at bringing together as many residents as possible to set and make progress on goals. In addition, the process is well known to state and federal resources which keep up to date with completed processes.
In 1999, Bradford became one of the first towns to receive the Community Visit Process. Many of the top issues identified in 1999 have been completed, including a town/village merger, Margaret Pratt Community assisted living, and municipal water/sewer. The Community Visit Process happened again in Bradford in 2021, and was led by VCRD staff Paul Costello, Jenna Koloski, Nick Kramer, and Alyssa Johnson.
Due to its proximity to the highway, hosting a regional high school, abundance of services (e.g. grocery, healthcare, dental, retail), and larger population relative to its neighbors, Bradford serves as a regional hub for the northern Upper Valley. It features an industrial park, coworking space, general store, Farm-Way/Vermont Gear, happening coffee shop, restaurants (e.g. Colatina Exit, Little Grille), and a walkable Main Street that makes it an attraction for locals in addition to people passing through. For all of its assets, many residents in recent years have felt a lack of cohesive vision, invitation to engage, and overall sense of progress. The VCRD Community Visit Process was seen by many as a way to kickstart community energy again.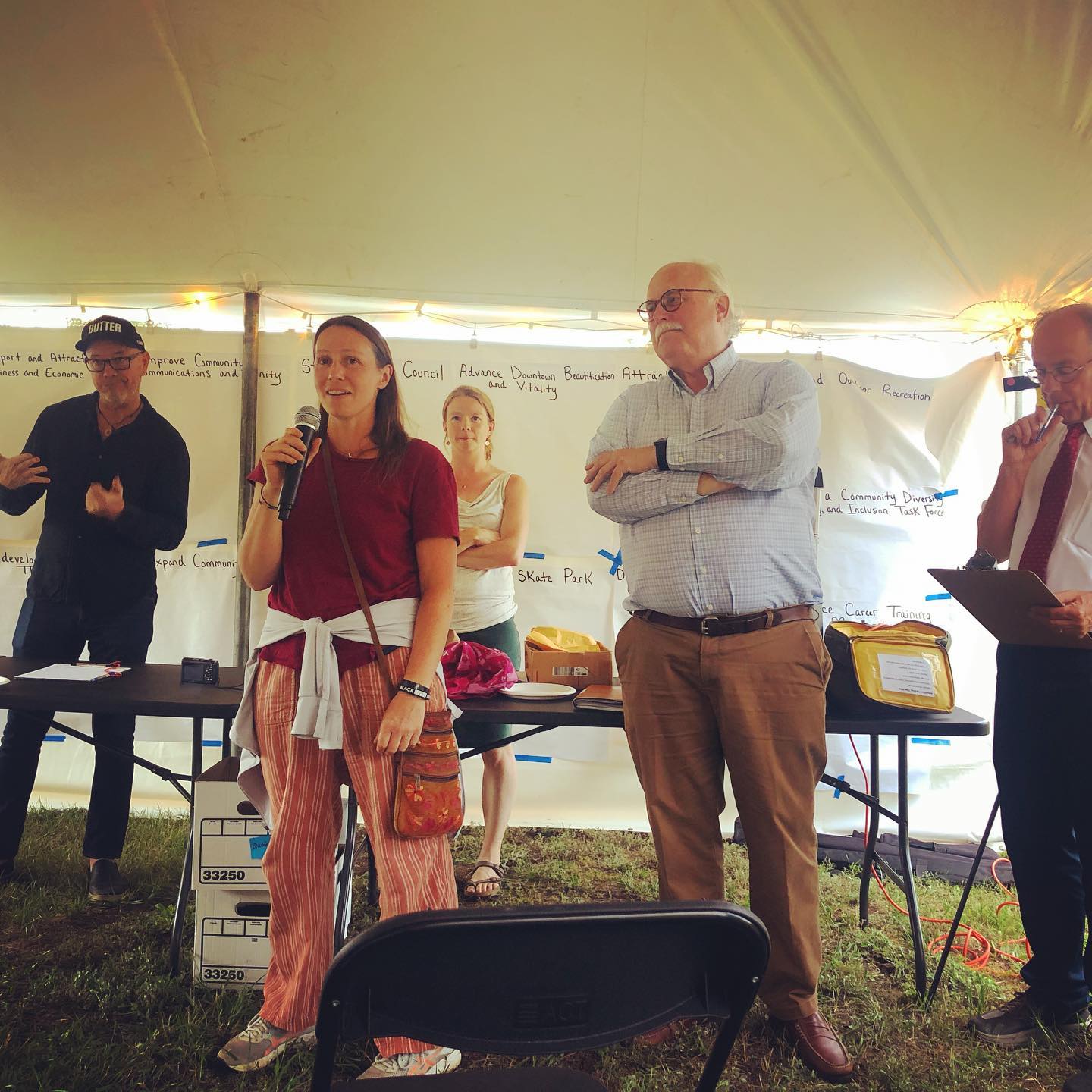 In the summer of 2021, VCRD returned to Bradford to facilitate the identification of new goals for the town under the effort "Moving Forward Together." Prior to broader public engagement, a Steering Committee made up of residents, business owners, town commissioners, nonprofit directors, educators, and community leaders gathered at The Space On Main to strategize marketing and outreach efforts. Local residents, Karen Danforth and Peter Mallary, stepped up to co-chair the Community Visit Process. Through a series of three public meetings, 150 community members chose three community priorities for action. The three priorities (in no particular order) were: boost town capacity; improve and expand recreational facilities and programming, to include building a skate park; and advance resiliency, sustainability, alternative energy, and agriculture. The Community Visit Process concluded with each of these priorities being assigned a task force of community members.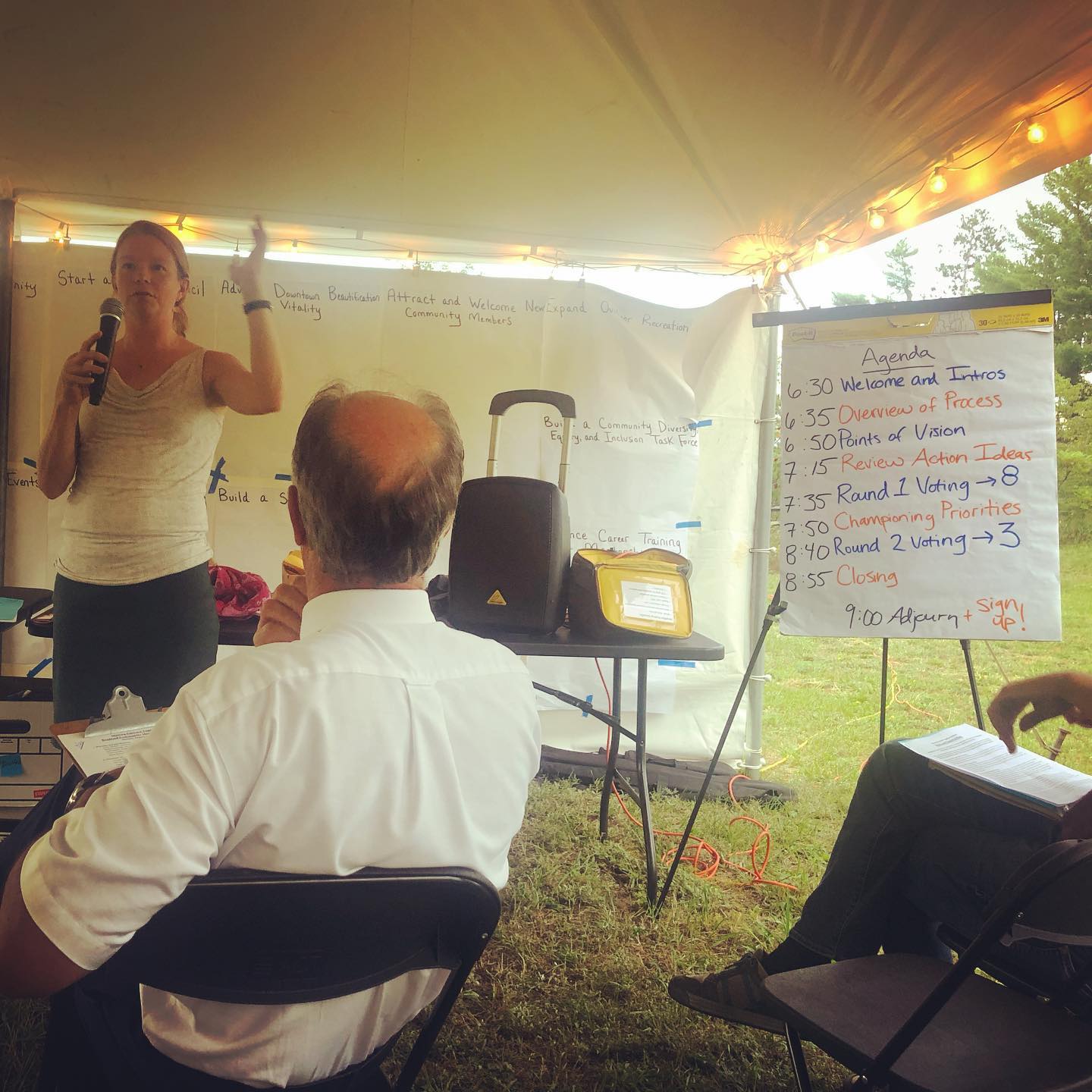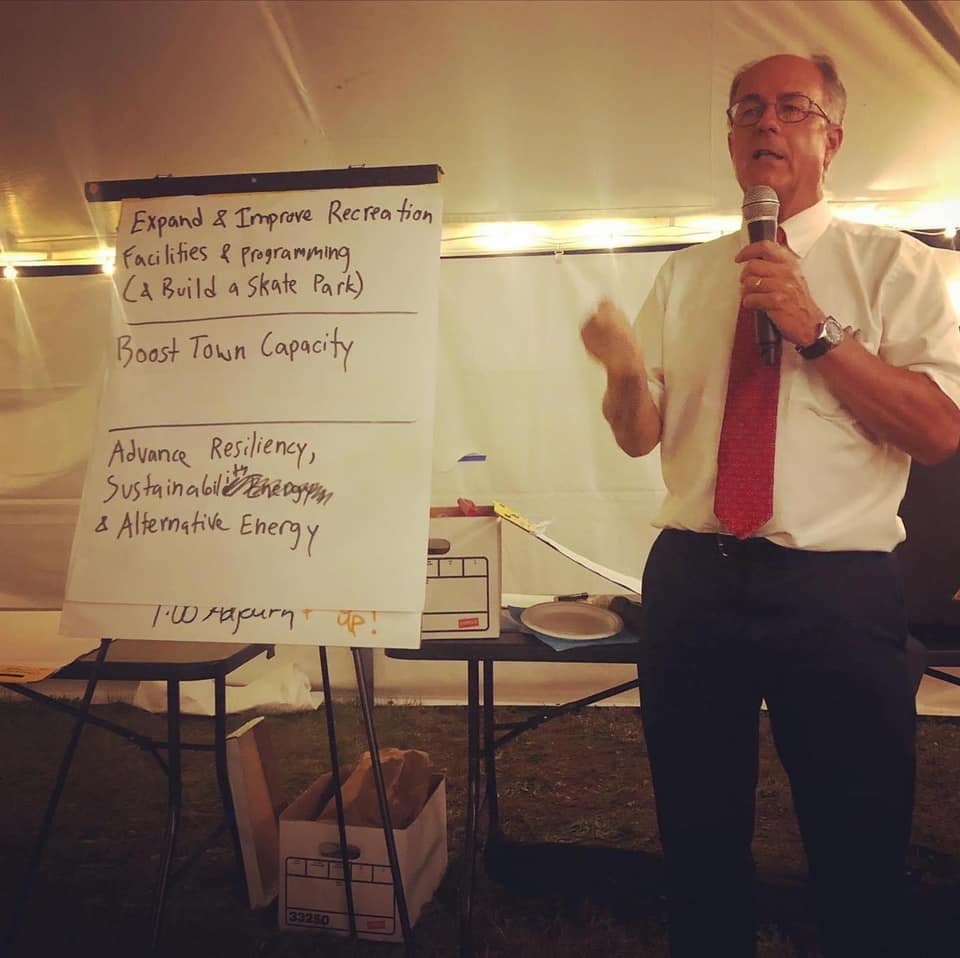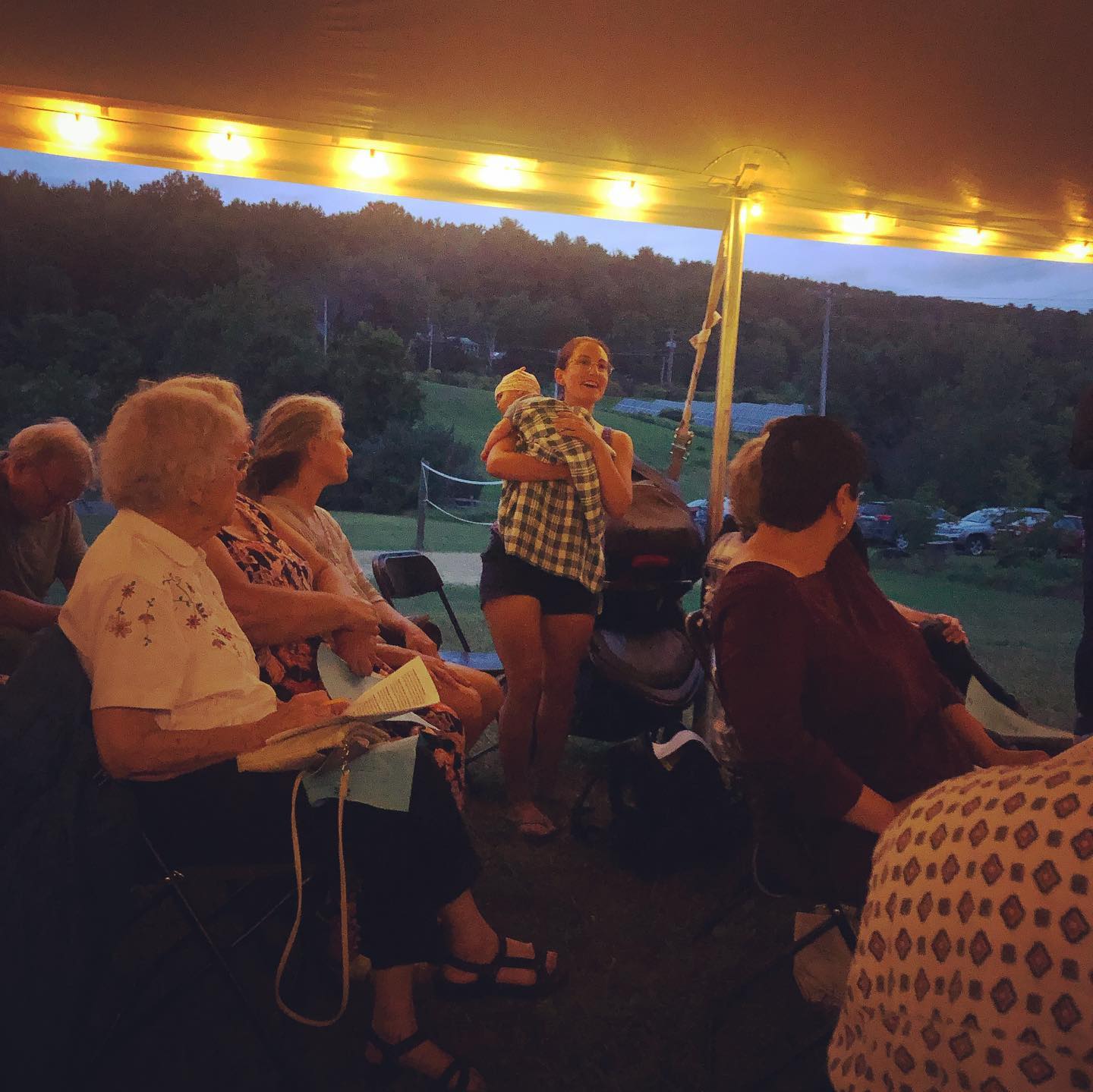 Although these task forces have started meeting, new members are more than welcome to get involved. Each task force is meeting once per month. As these are citizen-led efforts, there is no formal process to join and interested individuals do not have to live in Bradford. If you would like to find out more, do not hesitate to contact each of the chairs below.
Boost Town Capacity
Chair: Gary Moore gwmoore1946@icloud.com
Charge: Evaluate models for building town staffing capacity to drive community and economic development. Roles under consideration include a town manager, town administrator, economic development officer, and grants manager.
Improve and Expand Recreational Facilities and Programming – and Build a Skate Park
Chair: Michael Wright parksandrecreationtaskforce@gmail.com
Charge: Inventory recreation resources, develop a strategy to improve current facilities as well as expand opportunities, look for funding to support a full-time recreation director to lead community programming and collaboration, and start a plan to develop a skate park.
Advance Resiliency, Sustainability, Alternative Energy, and Agriculture
Chair: Ben Rubinfeld benrubinfeld@gmail.com
Charge: Identify and implement initiatives to improve Bradford resiliency, reduce reliance on fossil fuels, and improve food access, soil health, and agriculture.
---
The entire 2021 Bradford Community Visit Process report, as well as those of towns all across Vermont, can be read online in VCRD's Community Visit report archive. If your town is interested in the VCRD Community Visit Process, you can reach out to their team.
Photo credit: Monique Priestley