Thetford is basketball strong
But don't forget to get some extra sleep, hydrate a little bit better, and make 10% better nutritional choices during the playoff time.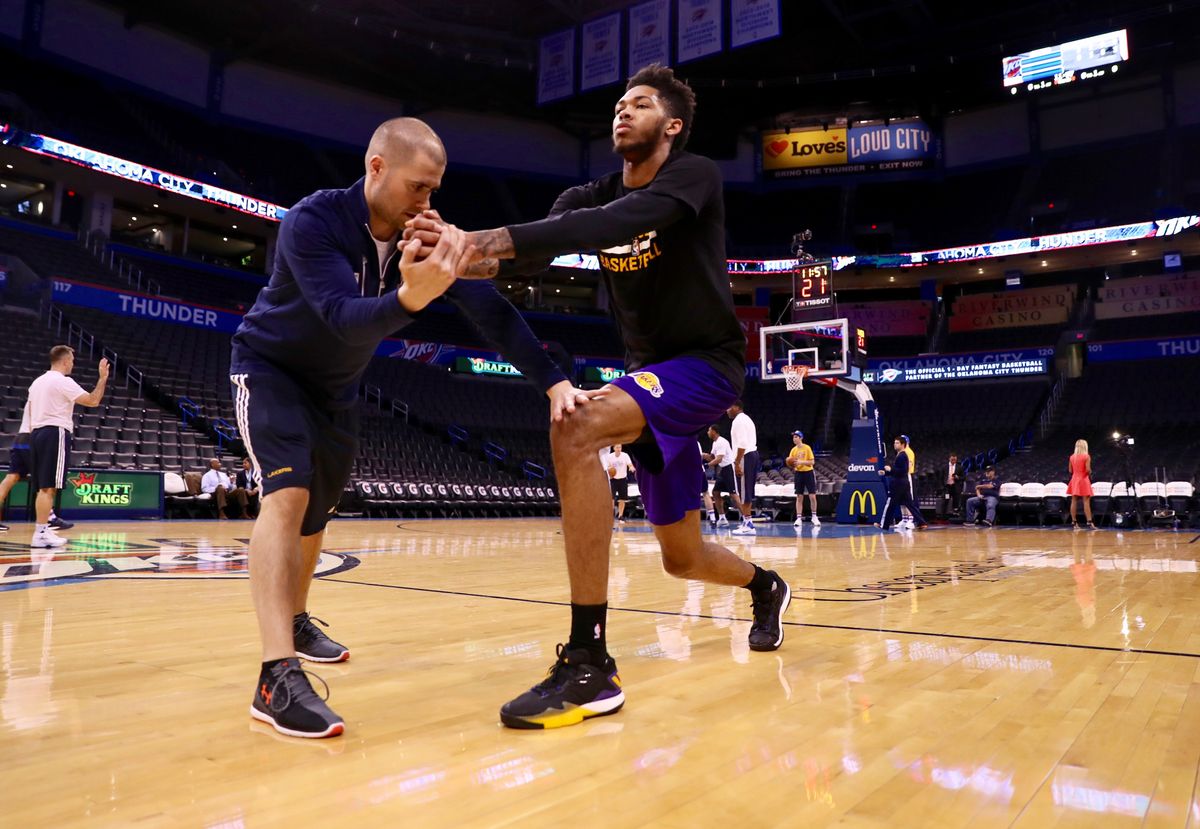 Tim DiFrancesco graduated from Thetford Academy in 1999. He played basketball at TA and later at Endicott College, where he got a bachelors in athletic training. He earned a doctorate in physical therapy from University of Massachusetts Lowell.
Tim went on to be head strength and conditioning coach of the Los Angeles Lakers, but left the position in 2017 to pursue a bigger vision: "I realized that there is so much more that I can do in the fields of rehabilitation, strength and conditioning, and performance training,"
Lately, Tim and co-host and renowned author Phil White have been working on a new podcast, Basketball Strong. Tim and Phil are striving to "create a unique and insightful podcast with no-holds-barred, longform interviews with subjects cherry-picked from Tim's vast network of player and trainer contacts from the NBA universe and beyond."
"I think back to an assignment I had in a sports journalism class at TA where I got to interview a Dartmouth basketball player (Asa Palmer, brother of former Dartmouth grad Walter Palmer who played briefly for the Utah Jazz). This assignment sticks with me to this day as an underlying joy that I am now playing out on the podcast today," Tim said over email.
Tim also remembers being the only male on the yearbook committee during his freshman and sophomore year at TA. "I loved the act of collecting the stories that make a great yearbook," Tim wrote.
Basketball is arguably one of the most popular sports at TA. Both the girls' and boys' teams are strong competitors. The girls made it to the finals six years in a row from 2014 to 2019, and the boys have made it to at least the semi-finals in each of the past four years, winning the state championship in both 2019 and 2020.
The boys' tournament in 2020 concluded just before the Covid-19 restrictions were imposed. The girls' season was suspended in March of 2020, after the TA girls had qualified for the semi-finals but before those games could be played. However, the season came back last year, with restrictions on attendance that are still in place
"One of the fast developing and underlying themes of the podcast is the idea of mental health challenges and what my guests do to manage and cultivate their mental health when it is challenged by life and circumstances," Tim wrote. In one of Basketball Strong's first episodes, for example, former NBA player Chris Kaman gives a raw description of how he faced panic attacks and anxiety. Chris explains very clearly in the episode how he regained control and now successfully manages it through breathing, mindfulness practice, and seeing a therapist.
Becky DiFrancesco, Tim's mom, retired teacher at TA, and Mindfulness Instructor, provides teaching and guided mindful practices to interested staff and their students at Thetford Academy. Staff and their students working with Becky practice bringing their awareness to the present moment, thus minimizing the ever-present distractions alive in our naturally busy minds.
"We can all benefit from learning to pay attention on purpose, including adults, children, athletes, performers — really no matter what your role, responsibilities, or intentions are," Becky said.
While Basketball Strong focuses on the NBA, its conversations are catered towards players, coaches, trainers, and enthusiasts. Tim says the lessons are transferable. Playing basketball in high school offers parallels, too, such as balancing homework with the stresses of life and a big game or starting in a new position or playing during Covid-19. "How you learn to roll with those punches and be able to take the ebbs and flows of the sport, of life, all seamlessly over time is a skill, and you have to develop it and practice it," Tim said.
"It's why you see somebody who's at the pinnacle of his craft, maybe one of the best people who's ever done his job, LeBron James, practicing mindfulness on the bench during a big game just the other day," Tim said. "At a later stage of his career, when you'd think he's got it all figured out, he needs this tool, he needs this strategy, to help him manage the stress of the game, the stress of his life, and all of it goes together."
TA athletes today are playing under challenging Covid-19 restrictions, but the lessons of mindfulness still apply.
"One very simple practice to quiet your busy mind is to gaze gently downward, stand feet hip distance apart, hands at sides, breathe in and out for three slow & relaxed full breaths, and bring awareness to any subtle movements in your still body as you stand. You can finish this 'Mindful Moment' by bringing your awareness back to simply following your breathing, inhaling, and exhaling for three more breaths," Becky said.
The TA girls' basketball season has ended. They earned a #7 seed in the upcoming state tournament. The boys' season ends Thursday and hopes to be seeded around #13 when that tournament starts next week. Tim's advice to athletes before a big game:
"Create a pre-game routine for the 3 hours leading up to the game. The body loves physiologically feeling like it's in a routine… it will then perform consistently. It could be anything from on game day you listen to the same music at the same times, or you do the same shooting routines at the same time, or you eat the same food that seems to sit well with you. Make sure that you account for the added stress and magnified intensity by letting yourself get some extra sleep, hydrate a little bit better, and make 10% better nutritional choices during the playoff time."
Basketball Strong's recent episode from last week featured Jelani Williams, captain of men's basketball at the University of Pennsylvania, who called his story of rehab from three consecutive ACL surgeries "a story of mental health." You can listen to Basketball Strong on Apple Podcasts.