Lebanon asks Towns to sign new landfill agreement
Thet Thetford Selectboard has not yet discussed the topic.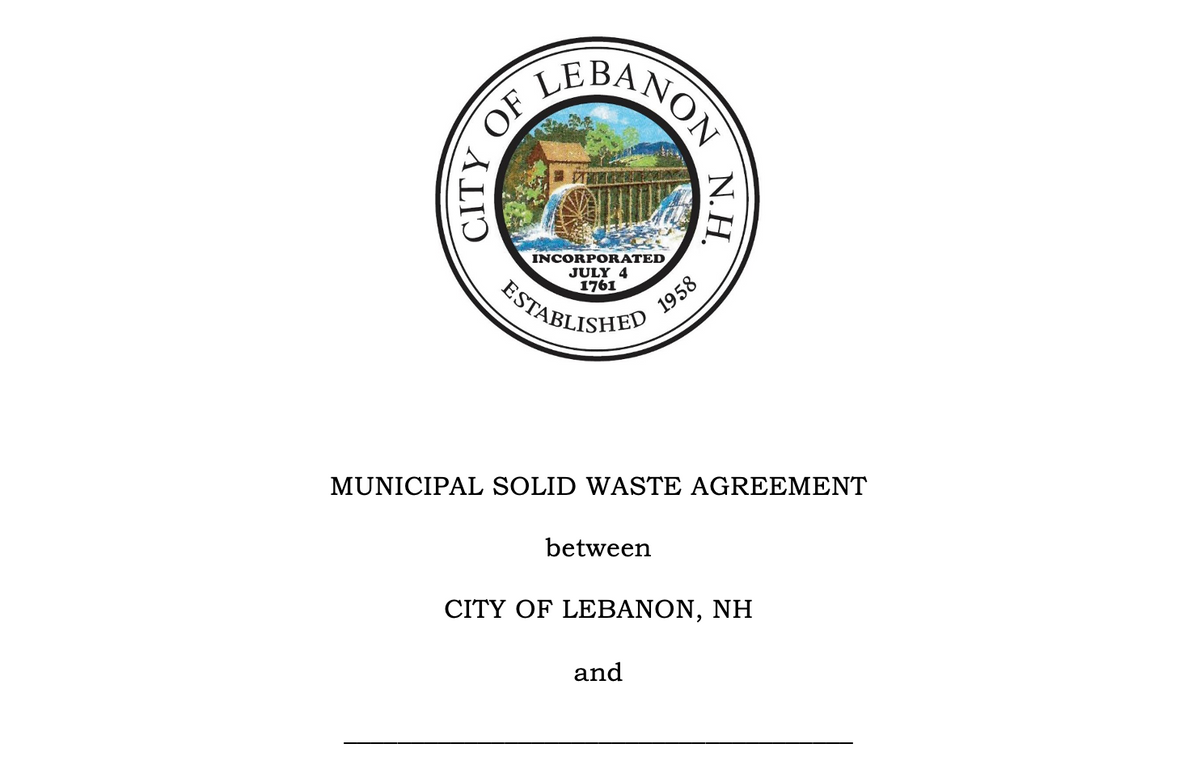 The City of Lebanon is asking every Town in the Greater Upper Valley (GUV) Solid Waste District to sign an updated Municipal Solid Waste Agreement. The expiring agreement is more than 20 years old. The new agreement, which each Town, including Thetford, may choose to sign or not, comes into effect on September 1st, 2021.
Towns signing the new agreement have three options. First, they can opt to allow individual residents to obtain permits through their Town Clerk and to dispose of waste directly at the Lebanon landfill. In this scenario, the Town Clerk would act as an agent of the City of Lebanon and receive training on the use of Lebanon's electronic system. As an agent of the City (solely for the purpose of issuing permits), the Clerk would have to comply with Lebanon's Welcoming Lebanon Ordinance, which would prohibit the Clerk from sharing immigration data that originated from Lebanon's electronic system. A violation "may result in a cancelation of this agreement at no cost or financial obligation to Lebanon."
Second, residents can obtain permits from Lebanon and again dispose of waste directly at the landfill. So far, it appears that most GUV Towns are selecting this option.
Third, the Town can obtain a permit to use the landfill but opt not to allow residents to do so. In this scenario, residents would bring waste to a transfer station provided by the Town, and the Town would be responsible for hauling.
Alternatively, residents could contract with a commercial waste hauler. However such contractors can only dispose of waste from participating Towns. If a Town opts not to sign the agreement, even commercial haulers will be unable to get a permit for waste from that community.
If a Town chooses to sign, they are required by the City of Lebanon to adhere to Chapter 97 (Landfill Regulations) of the Code of the City of Lebanon, which defines terms such as Acceptable Waste, Unacceptable Waste, and Hazardous Waste. Further, each Town would have an obligation to comply with New Hampshire statute RSA 149-M:2-1.
The general court declares its concern that there are environmental and economic issues pertaining to the disposal of solid waste in landfills and incinerators. It is important to reserve landfill and incinerator capacity for solid wastes which cannot be reduced, reused, recycled or composted... The goal of weight diversion may be achieved through source reduction, recycling, reuse, and composting, or any combination of such methods.
In essence, the Town would be required to have an active recycling program in order to divert waste from the Lebanon landfill. Further, it must provide an annual summary of the tonnage of solid waste which was diverted, with the goal of reducing by 40% the amount of waste being hauled to Lebanon.
Lebanon will be asking to see new permits starting September 1, and will turn away those who are not from a participating community. The permits will have a scannable code that will allow landfill staff to better understand where waste is coming from. For participating communities that allow individual permits, they can be obtained online for free (and saved to your phone), or bought in person for $10 either through the City of Lebanon or, depending, through your Town Clerk.  Proof of residency will be required.