Latham Road, the last road refurbishing for now?
Unless Congress approves funds for infrastructure improvements...Thetford's future road repairs may well lie dormant for a while.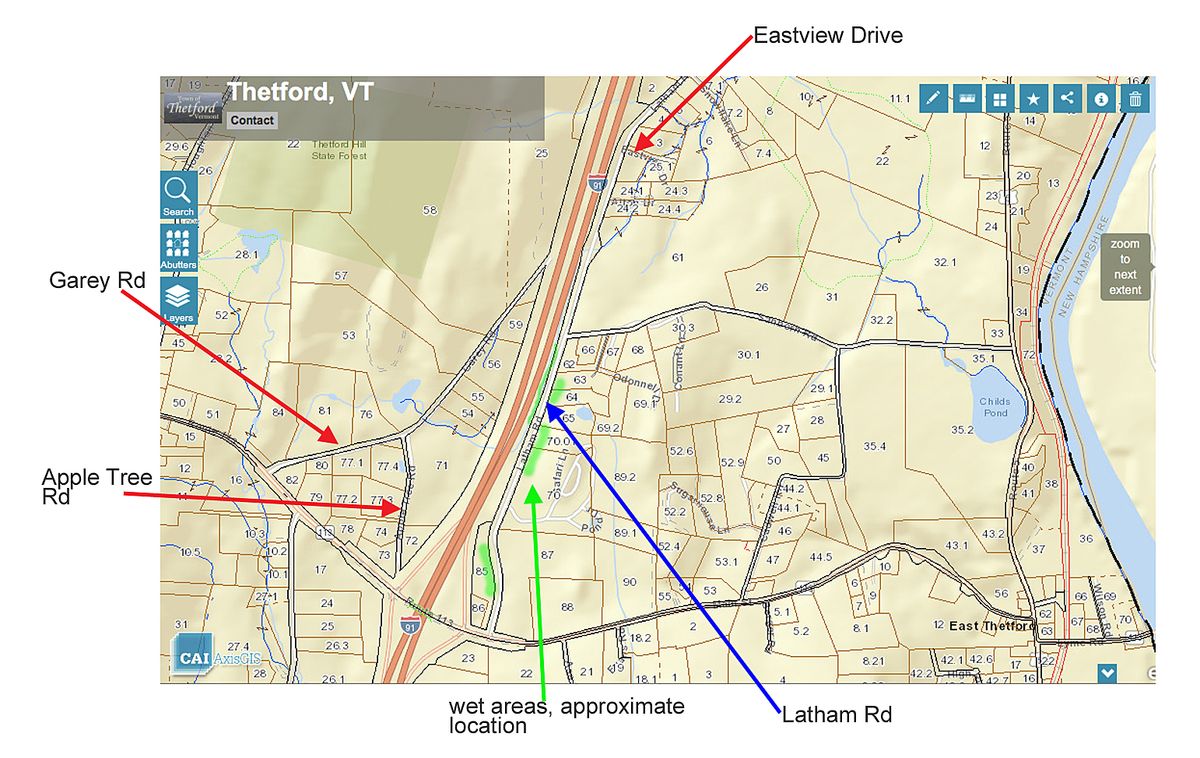 Thetford is facing a hefty bill to refurbish the 2.39 mile long Latham Road, even though some of it has been repaired already. The north end was re-paved prior to 2017 and has a base coat of asphalt, however the top coat of asphalt was never added. Instead, a torrential storm on July 1, 2017, caused millions of dollars' worth of damage to town roads. As a result, road maintenance funds were channeled into paying this enormous expense, and the top coat was never added.  In October of 2020, the Selectboard reaffirmed that repaving Latham Road was a top priority.
The Town Plan lists Latham Road among its "collector roads" that link residential streets with the "arterial highways" of Route 5, Route 113 and Route 244. But at one time Latham Road may have been an artery in its own right. It used to be the link between Thetford Hill, North Thetford, and the Ely train station. East Thetford and Route 113 had not yet risen to prominence.  Route 113 was not much developed beyond Thetford Center due to the frequent flooding of the Ompompanoosuc River.
The Latham Road we see today is not the original road. Between 1958 and 1965 the construction of I-91 forced the re-routing of the south section to its present position alongside the interstate (see map).  Prior to that time it intersected with Route 113 where Garey Road now sits. Garey Road is, in fact, the old south section of Latham Road, and its abrupt termination at the Interstate marks where I-91 cut Latham road in two. The present-day Apple Tree Road, now cut off by the I-91 off-ramp, was a second access from Rt 113 to the former Latham Road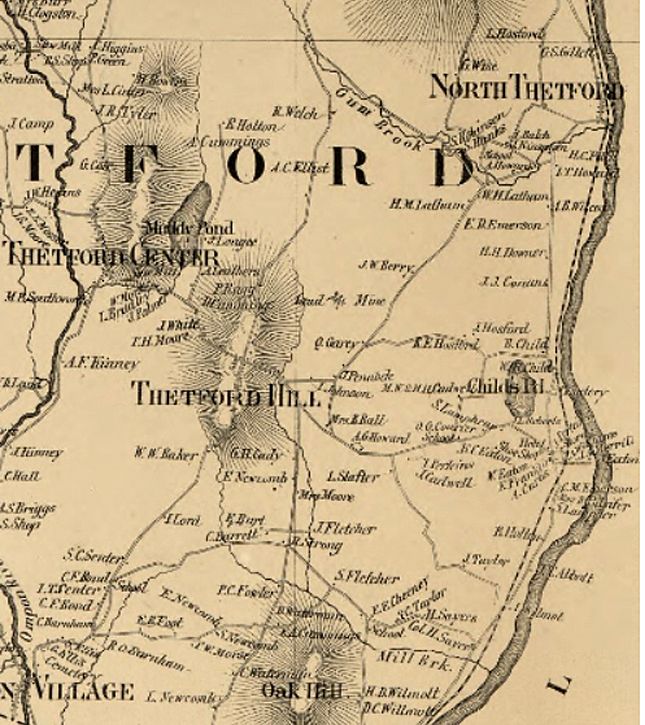 The re-routed Latham Road crosses several small wetlands that were either pre-existing or resulted from the monumental changes in terrain and drainage caused by the construction of I-91. Either way, the soils do not appear optimal for supporting a road.  
Fast forward to 2022. As promised, the Town is preparing to finally improve Latham Road. This will not be cheap. Stantec Engineering has analyzed the current condition of the road and estimates that adding "approximately 6,300 linear feet of 1-1/2 bituminous concrete overlay" to the section running from  Route 5 to Eastview Drive, plus other improvements to that stretch, will come to around $192,000. They note that "Because 5 years has elapsed since the base course was placed there are locations where the pavement requires crack repairs and shim prior to the placement of the overlay pavement…."   Rehabilitating the southerly section, from Eastview Drive to Route 113, is a major project that will likely cost $507,000. And adding the final top coat of asphalt to this section will add another $187,000. That does not include almost $60,000 in engineering services, or an added 10% for construction contingency. In all the estimated total is almost $997,000. Since the top coat for the southern end of Latham Road won't be added till next year the expense for 2022 might be in the range of $810,000.
But that is not all. In his March 21st presentation to the Town Manger and the Selectboard, Stantec's Project Manager Brian Ruoff identified new areas where the road passes through wetlands that may need additional work not accounted for in the original quote. He also explained that Stantec's soil-boring study has revealed a weak base of "fine sandy material" underlying the road after its junction with Rt 113 that will need to be excavated. Sand does not have the load-bearing properties to adequately support a road. After excavation, the road bed will need to be "boxed out" to a depth of 20 inches. Most probably the trench will require a lining of geotextile fabric that is necessary for adequate support and stabilization of roads in weak subgrade soils. This might extend to the wetland areas. Geotextile prevents sand from infiltrating and weakening a road's substructure, while allowing water drainage.
After it is dug out, the existing pavement will be ground up to be mixed with gravel that will be packed into the boxed-out trench. Road underdrains will be installed, and an additional layer of 4 inches of crushed stone will be added on top. Then the base layer of asphalt will be applied. As mentioned above, the top coat of asphalt will be laid down next year.
Paying for all this work will be a balancing act. Exhausting the town Paving Fund will not cover it all. The Town Manager has applied for a grant from VTrans that will hopefully contribute $200,000, but even that may not cover everything, considering the added complication of strengthening some road sections and the top coat expense that will be due in 2023. It may require scraping funds from other parts of the DPW fund balance and the $134,000 in annual State Highway Aid.  Some time will be needed to replenish the paving fund before the Town can afford overdue upgrades to other roads.
Furthermore, the town is stressed by the unpredicted expenses of reinforcing our dirt roads in an extraordinarily destructive mud season. The purchase and deployment of multiple truckloads of crushed stone, plus hiring Northwoods Excavating to assist our overstretched DPW, may drain both the $60,000 budgeted for gravel resurfacing  and the $60,000 allocated for road maintenance supplies. Unless Congress approves funds for infrastructure improvements that will trickle down in the form of aid to states and towns, Thetford's future road repairs may well lie dormant for a while.
Graphics Credit: Town GIS; historic map from Library of Congress