Jonah Richard explores "human-scale" development in Fairlee
"This is my first true ground-up development project so I want to share the ups, the downs, and the lessons along the way to encourage others that they, too, can do it," Jonah Richard said.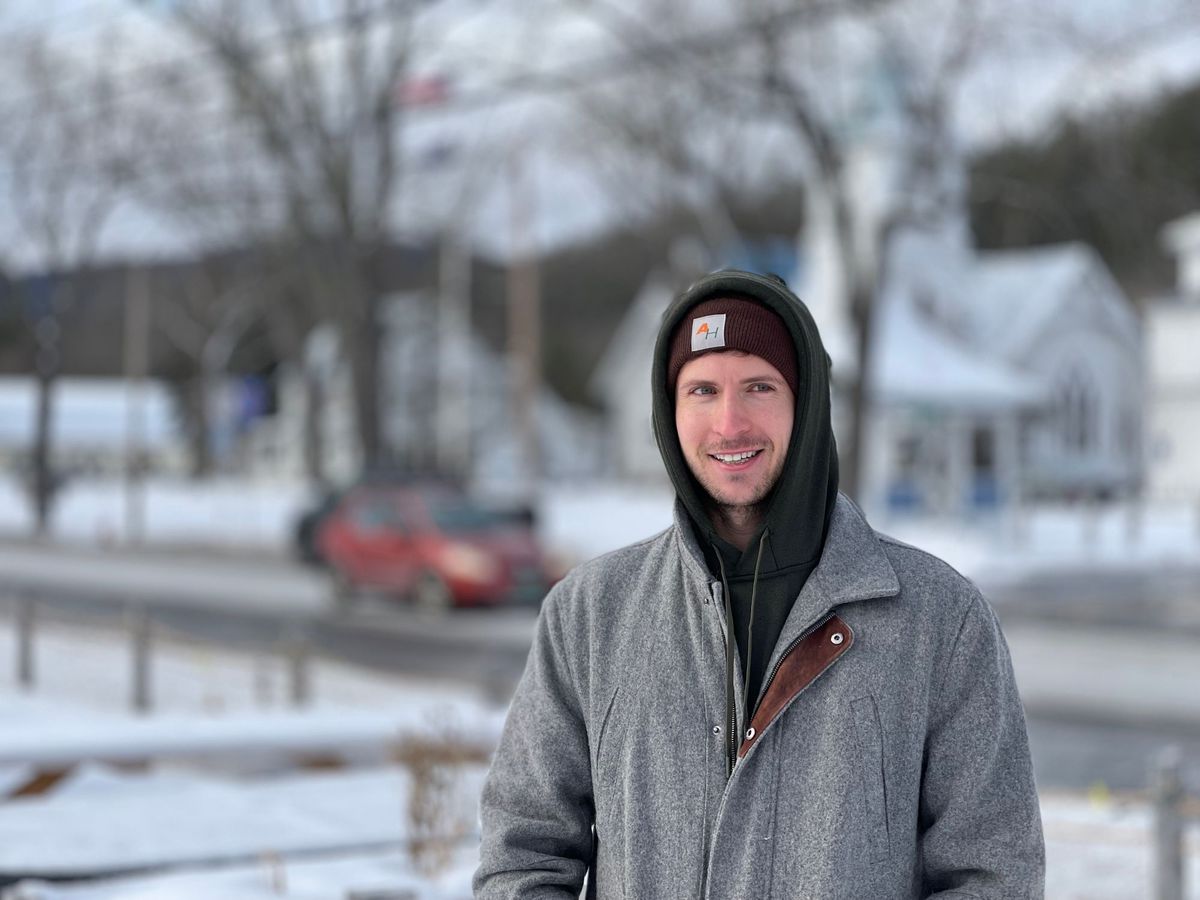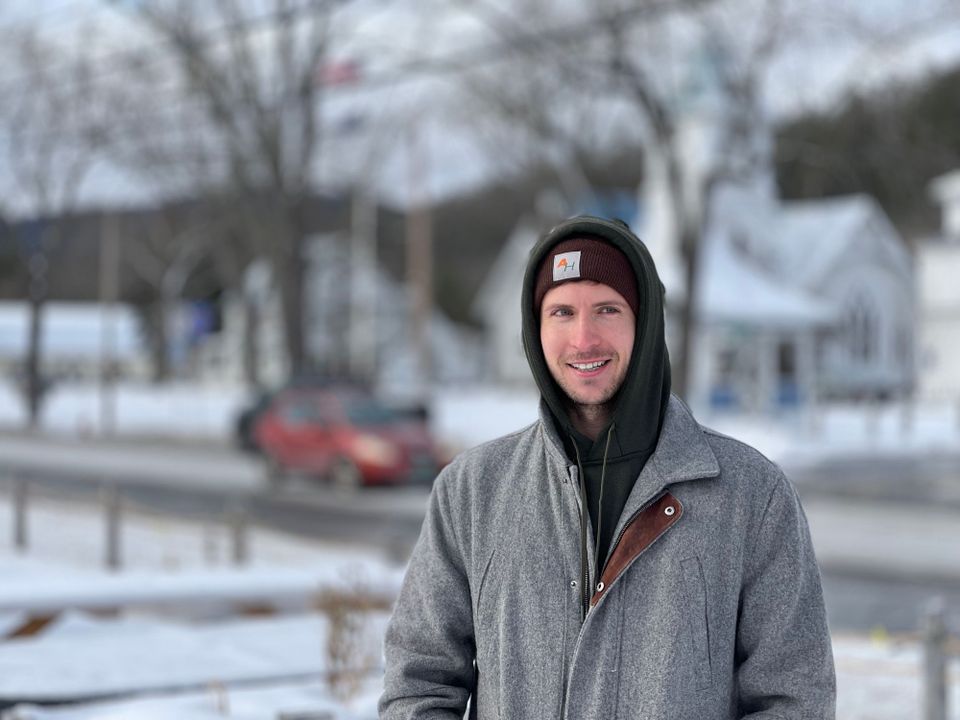 Jonah Richard is an Upper Valley native. He's a "human-scale" developer with ongoing multi-unit projects in Bradford and Fairlee. Unlike the +/- 200 unit developments that are becoming more common in Lebanon, Jonah's largest project, 501 Main Street in Fairlee, is for 9 units.
While development of new housing within a reasonable price range is often challenging in smaller communities due to a lack of public water, septic, and transportation, and other factors like the distance from jobs (and therefore what people are willing to pay in rent), Jonah is hoping to develop a financially viable model for small-scale development that can help revitalize villages.
501 Main Street sits between Chapman's General and the Mobil gas station in Fairlee's village center. It was built in the 1930s and used as a post office. It was converted into a bank in the 1960s, and housed one bank or another until briefly becoming a hair salon in 2010 and then, five years ago, becoming vacant.
Jonah's plan is to convert the one-story building into a three story building with three units on each floor. The building is approximately 40 ft by 40 ft, meaning each unit will be approximately 450 sq/ft, comparable to the size of units being built in Lebanon and Hartford. (A 86-unit development in Lebanon is proposed to be 80% studio apartments that are 433 sq/ft each). Each apartment at 501 Main, however, will have a dedicated 75 sq/ft balcony. And in-unit laundry.
Smaller studio apartments have been criticized for being too small, but Jonah still thinks they're necessary. They cater to a demographic that is often younger and single. According to information provided by an area property manager, people's number one reason for leaving the region is to find a spouse. The second reason is the lack of social opportunities. Housing came in a more distant third.
Younger people may be more likely to live in a smaller studio apartment. They're not necessarily looking for a single-family home yet, although there's a very real need for that kind of housing as well. Bringing younger people into villages has the opportunity to create what Jonah calls "an ecosystem." But they have to want to live here, too.
Across the street sits another vacant lot, which Jonah, along with four other partners, recently purchased as well. Their intention is to build commercial space – a one-story, 2,500 sq/ft building containing an art gallery and cafe/bar called Chapman's Place. In a survey they sent out, Jonah and his partners heard from 100 local artists who would be interested in displaying their work if the gallery were to be built.
The commercial building would be tucked into the back of the otherwise open lot – once home to the Colby Block which burned down in 2007  – leaving room for green space and outdoor seating. It doesn't come without challenges though. The team is crossing their fingers for a grant from the Vermont Agency of Commerce and Community Development, without which the project becomes economically unviable due to construction and business startup costs. If built, it would be complimented by Jonah's 9-unit housing development across the street, projected to be wrapping up by the time more detailed planning for the commercial space would be underway.
Back across the street, Jonah's 9-unit development will have its own hurdles to overcome. The property is non-conforming, meaning in this case that the building is literally on the property line. This gives Jonah very little room to operate. Luckily, however, there's an easement that grants access to about 2 acres of land in the back where Jonah plans to add parking and septic. Fairlee has public domestic water, but not public wastewater.
In addition, the 1930s foundation lacks footings and will need to be excavated from the exterior so that footings can be added. This is necessary to support the weight of two additional stories. There are also some sloping floors, perhaps due to age but likely also due to the previous bank occupants and the weight of the requisite safe. From the basement, you can see where supports were added to hold up the floor.
With all this, however, Jonah still expects rents around $1,100/month, or approximately $2.50 per square foot. That's $1 less than the $3.50 per square foot (or $1,515/month) expected of the studios being built in Lebanon. Jonah says his pricing is a function of build costs. While he might be inclined on future projects to start from scratch on an older building like this one, including pouring a new foundation instead of trying to reinforce one, he said the move, despite requiring more mental energy, is actually cost saving.
It's also cost saving to use wood framing, which Jonah is doing in Fairlee, in contrast to the steel framing being used in Lebanon's larger projects. Jonah estimates that those projects' construction costs could be as much as 40% more per unit than his. He adds, however, that he's also acting as his own general contractor, which saves him about 10% on the project.
Jonah isn't a traditional profit-seeking developer. Less concerned about his own income (or developer fees), Jonah says he's motivated by community need and building a repeatable model for others to do similar small-scale development work.
This is my first true ground-up development project so I want to share the ups, the downs, and the lessons along the way to encourage others that they, too, can do it. We need more small-scale developers and the first step in making that happen is by laying everything on the table and opening up the books, so to speak.
He hopes his project in Fairlee will show that it's possible to build something sized between single family homes and large, urban developments. With work in Fairlee scheduled to begin soon – demolition starts this winter – he might be right. In fact, he's in the design phase of a 7-unit development in Bradford's village just up the road, except he won't be adding any new floors to that building.
Jonah writes regularly on his blog Brick + Mortar about his projects. Take a look to learn more about what he's up to.