Front porch improvisational jazz concerts return
Concerts are free. Bring a chair, bug dope, a hat, and sunscreen.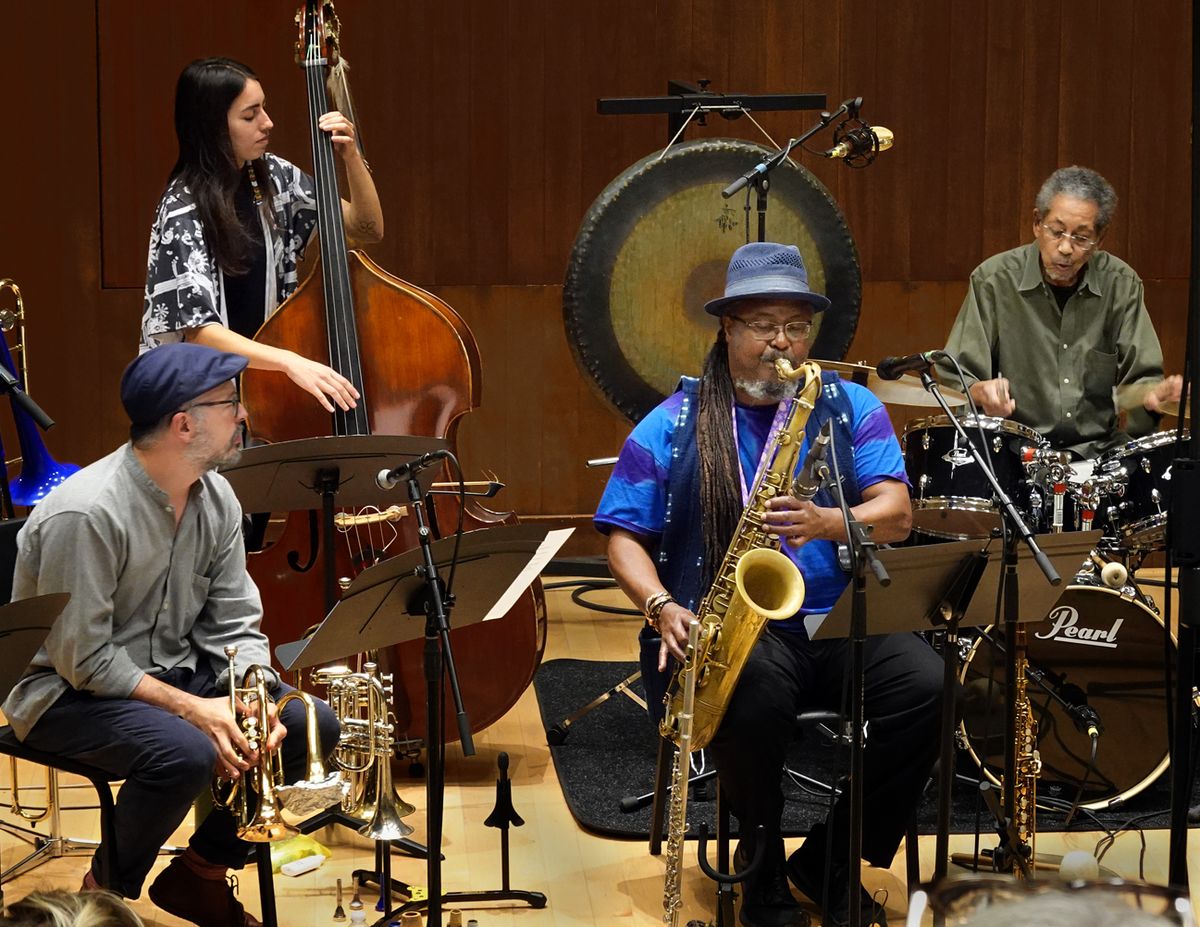 It seems that Bill Cole has spent a lifetime making waves. Showing talent at a young age, he composed a song in third grade that was sung on the radio. From age 8 into his teens, he took lessons in classical piano. But his teacher caught him experimenting with jazz-like abstractions before class and tried to slam the keyboard lid onto his fingers.
At age 11 he began training as an amateur boxer, not to compete, but to defend himself against street attacks by kids in the white neighborhood he had to traverse walking home from school. Later he became a community and civil rights leader and staged the first ever sit-in in the Pittsburgh mayor's office.
Here in Thetford, he's originated a series of Front Porch Concerts that stand out as unique among the live music in Vermont. Beginning with those childhood piano experiments, Bill's musical creativity has taken a path that's anything but mainstream. He has always been drawn to exploring the limits, both of an instrument and of the player. To him, those limits come together in the endless possibilities of extemporized or improvisational jazz. That's when a player's skills are taxed to compose de novo, on the fly, guided by their ear and the abilities of their instrument.
After a long career spanning the improvised jazz world, music academia, and ethnomusicology, Bill is very well-connected. As he's done in the previous two years of Front Porch Concerts, he will bring jazz performers to Thetford that you would otherwise have to travel to see in New York or other major cities.
The 2022 series will begin with the core group, referred to as the Initiators. Bill Cole will perform on non-western, double-reeded wind instruments including the Chinese suona, the Korean hojok and piri, and the Indian nagaswaram and shenai. He is probably the only recording artist to accomplish jazz improvisation on these eastern horns. Bill will also play the Australian didgeridoo. He will be joined by Ras Moshe's expressive voice on saxophone and flute, and Taylor Ho Bynum, who delights in squeezing unthinkable notes from the cornet, trumpet, and trombone.
Bill writes, "There are two aspects to the concept of the Initiators: initiating the music, and also initiating the Series as a way to present music. The Series was begun to provide a situation where folks could come and hear live music, for free, because — due to COVID-19 — people were not going out to hear live music, and players, of the kind of music that I do, were not getting jobs because venues were shutting down… The level of musicianship that will be demonstrated during these performances is extraordinary, based on both the musicians' talent, and the lived experiences that they have had as musicians."
Throughout 2020 and 2021, the musicians graciously traveled to Thetford at their own expense and performed for free. They did get paid when the  2021 Porch Series concluded with an indoor concert at Dartmouth's Faulkner Recital Hall, through a mixture of funding from Dartmouth, the Vermont Council on the Arts, and personal money. That concert, "Margaret and Katie,"  was dedicated to Bill's two Virginia cousins, Margaret, the family historian who passed away at age 109, and her daughter Katie.
Looking forward to the 2022 season, the Initiators will be joined by other artists. Depending on the musicians' touring schedules, we're likely to see tuba and baritone horn virtuoso Joseph Daley, Althea Sullycole on kora (African harp), and Mali Obomsawin, the up and coming young indigenous acoustic bass player. And last, but not least, Warren Smith, one of the most sought-after percussionists, who has performed across the spectrum with Miles Davis, Arethra Franklin, Nina Simone, Max Roach, Quincy Jones, Count Basie, Lloyd Price, Nat King Cole, Charlie Mingus, and Janis Joplin, to name but a few.
The first Front Porch Concert will be at 1590 Tucker Hill Road on SATURDAY May 28th at 1:00 pm.
Here's the full schedule:
Tucker Hill Road:
• May 28, Sat: Ras, Taylor, Bill
• June 11, Sat: Ras, Taylor, Bill
• July 17, Sun: Mali, Ras, Taylor, Bill
• August 12, Fri: Joseph, Althea, Ras, Taylor, Bill
The last two concerts of the series will be held in South Royalton at the gazebo, or on the premises of BALE (Building A Local Economy).
• Sept 10, Sat: Joseph, Ras, Taylor, Bill
• Oct 11, Tues: All (Warren, Joseph, Mali, Althea, Ras, Taylor, Bill)
October 11th is significant — it will be Bill's 85th birthday!
Concerts are free.
For Tucker Hill Road, an alternate venue will be announced in case of rain .
Bring a chair, bug dope, a hat, and sunscreen. Parking is beside Tucker Hill Road, or go through the gap in the stone wall to park on the grass near the gas tank.
Photo credit: Li Shen